20 April 2015 09:00 (UTC+04:00)
2 404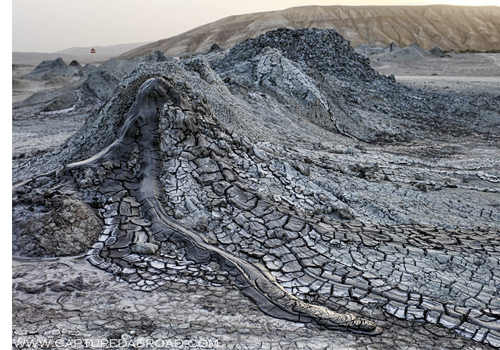 By Nigar Orujova
Are you fan of "Star Wars" and "A space odyssey"? Then you will fall in love with the lunar landscape of the mud volcano valley near Baku.
Azerbaijan is famous around the globe for being home to a great number of mud volcanoes. Over a thousand mud volcanoes are known to exist in the world, and some 400 are located in the coastal area of Azerbaijan and the Caspian Sea.
The world's largest mud volcanoes - Boyuk Khanizadagh and Turaghai - are both located in Azerbaijan. Boyuk Khanizadagh volcano, with a diameter and height of 10 kilometers and 700 meters respectively, erupted in 2001, shooting out flames 300 meters in the air. This was the highest record for flames shot from a mud volcano so far in the world.
The dissemination of mud volcanoes usually indicates the existence of large oil and gas basins. This is obvious in Azerbaijan, a country reach with natural resources, and such facts have attracted the attention of scientists from all over the world.
The first mud volcano is believed to have erupted in Azerbaijan no less than 25 million years ago.
Today, Azerbaijan witnesses some 3-5 impressive eruptions a year, accompanied by explosions and underground roars. Gases coming out of the deep layers of the Earth inflame immediately during eructation.
The mud volcanoes of Azerbaijan took the 5th place in an international competition held by a Swiss non-commercial organization called "Seven wonders of nature". Moreover, the largest mud volcano of the world located in Azerbaijan was registered in the Guinness Book of Records on September 15, 2004.
Located some 70 km southwest of the Azerbaijani capital, the area near Gobustan State Reserve has a number of such volcanoes crowd together.
With Spring back there is no better time to visit this extraordinary place - a perfect trip to the Moon!
Here, you will able to see martial areas, as geologists from NASA came to the conclusion that Azerbaijan mud volcanoes and Mars' highlands are similar in their structure.
Get ready to see a lot of mud. Mud and liquid spewed by mud volcanoes are used as raw materials for chemical and construction industries, as well as pharmacology. You can also touch it, and climb the volcano, but do not forget safety instructions.
Tourists can reach the place by taxi or public transport, or hire an excursion. On the way to the unearthly place you can also visit the Gobustan settlement where prehistoric men dwelled.
--
Nigar Orujova is AzerNews's staff journalist, follow her on Twitter: @o_nigar
Follow us on Twitter @AzerNewsAz
Related News