Baku 2015 branding to feature on AZAL boarding passes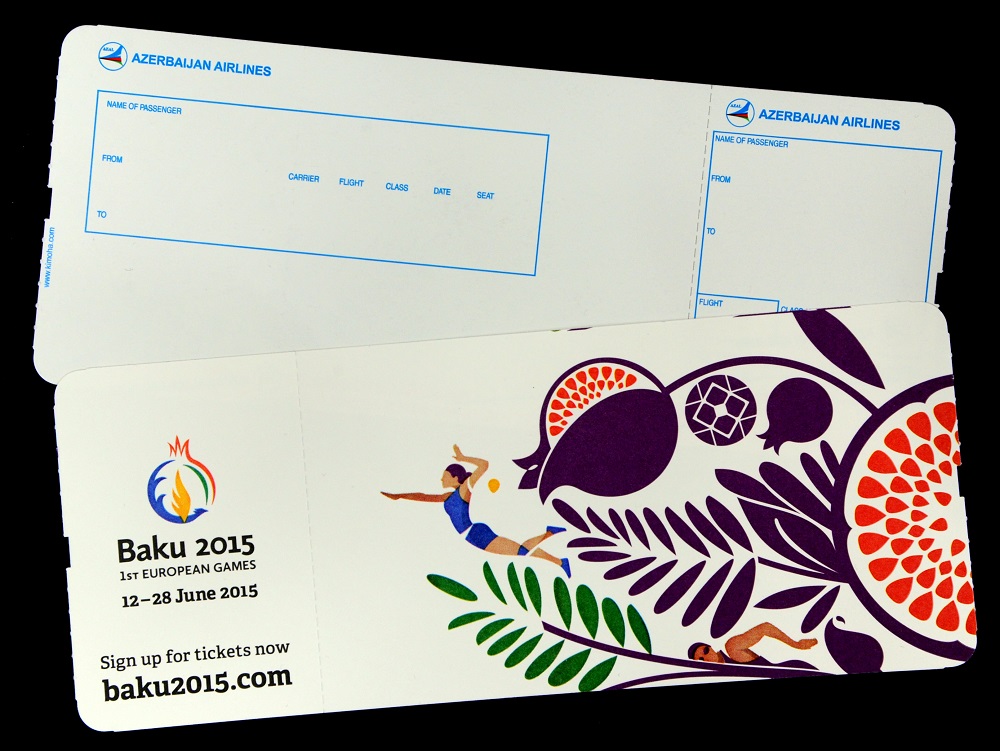 By Sara Rajabova
Baku 2015 European Games branding will feature on official partner Azerbaijan Airlines boarding passes as the countdown to the inaugural event continues.
The colorful Baku 2015 logo and sport images will adorn more than 800,000 of the airline's boarding passes till the finale of the European Games in June 2015.
Baku 2015 is the first ever European Games, an exciting and innovative multi-sport event for the continent which will take place from 12 – 28 June 2015. There will be a total of 20 sports at Baku 2015: 16 Olympic sports and four non-Olympic sports. More than 6,000 athletes from across Europe will be representing their nations over 17 days of competition.
The passes will be used on both domestic and international departures on flights leaving from and arriving into Baku's Heydar Aliyev International Airport, as well as Nakhchivan and Ganja Airports.
The passes will be used on flights to all internal destinations, as well as a variety of international locations including London, Milan, Rome, Beijing and New York City.
"We are delighted to see our colorful logo and brand being shared with the world thanks to Azerbaijan Airlines and their boarding passes," Simon Clegg, Chief Operating Officer of Baku 2015, said.
Clegg added that as the national carrier of Azerbaijan, they will play an important role in the coming months in promoting the inaugural European Games as well as bringing the best European athletes to compete in Baku next year.
Arif Mammadov ,Vice-President of Azerbaijan Airlines, said the company is proud to be carrying the Baku 2015 branding on its boarding passes and helping support the European Games, which is an historic moment for Baku and for the entire country.
"We will help to transport athletes, officials and spectators to Azerbaijan for the event and we want to share our excitement with our passengers as we approach the spectacular Opening Ceremony," Mammadov said
Azerbaijan Airlines, being an Official Partner of Baku 2015, will also feature the European Games on the airline's in-flight movies and magazines to help increase awareness with an international audience.
The agreement also ensures the European Games have a significant presence within Baku's Heydar Aliyev International Airport to welcome visitors arriving for next summer's spectacular event.
The company, which carries more than 1.7 million passengers per year and serve 38 cities around the world, is planning to increase their number of daily flights into Baku next year due to the European Games.