18 July 2016 15:23 (UTC+04:00)
1 312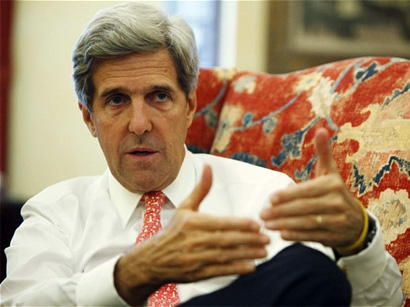 The US is awaiting a formal plea to turn over the Pennsylvania-based cleric Fethullah Gulen, suspected by Turkey of inspiring a military coup attempt, said Secretary of State John Kerry, Bloomberg reported.
"We have not had a formal request for extradition – that has to come in a formal package and be sent to the Justice Department," Kerry said on CNN's State of the Union broadcast July 17. "Give us the evidence, show us the evidence. We need a solid legal foundation that meets the standard of extradition in order for our courts to approve such a request."
On July 15 evening, Turkish authorities said a military coup attempt took place in the country.
Meanwhile, a group of servicemen announced about transition of power to them.
However, the rebelling servicemen started to surrender July 16 and Turkish authorities said the coup attempt failed.
According to the latest reports, 208 people have been killed as a result of the coup attempt.
---
Follow us on Twitter @AzerNewsAz
Related News