2 May 2016 14:30 (UTC+04:00)
949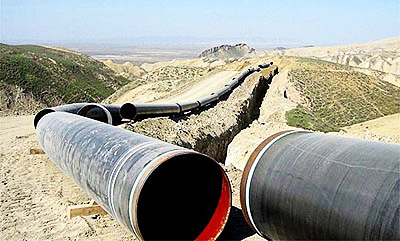 By Fatma Babayeva
Turkmenistan has invited Saudi Arabia and Qatar to join the construction of the transnational gas pipeline running via Turkmenistan, Afghanistan, Pakistan, and India gas recently.
Turkmen President Gurbanguly Berdimuhamedov invited companies and financial institutions of Saudi Arabia to take part in the construction of the TAPI gas pipeline, Turkmenistan's government announced on May 2.
The Turkmen leader came out with this initiative at a meeting with Salman bin Abdulaziz Al Saud, the king of Saudi Arabia in Riyadh.
Berdimuhamedov is on an official visit to Saudi Arabia from May 1 to 3.
TAPI project is intended to be a bridge of friendship between the countries of the region, said Berdimuhamedov during the meeting with the Saudi Foreign Minister Adel Al Jubeir.
This energy route will bring heat to the homes of the population of the neighboring fraternal countries, provide wide range of opportunities for further development of their economies, enhance the welfare of the population and create new jobs, Berdimuhamedov added.
Earlier, the Turkmen president also invited representatives of the business circles of Qatar to participate in the construction of TAPI pipeline during the meeting with Head of the Qatar Olympic Committee Sheikh Joaan Bin Hamad Bin Khalifa Al-Thani in Ashgabat on April 28.
The main document for the construction of this pipeline, so called Ashgabat Interstate Agreement was signed in 2010 that was the practical commencement of the project.
However, the launching ceremony on the construction of the Turkmen section of the TAPI pipeline which has the capacity up to 33 billion cubic meters of gas was held in the mid-December of last year.
The total length of the pipeline can reach 1,814 kilometers including 214 kilometers running through Turkmenistan, 774 kilometers through Afghanistan and 826 kilometers through Pakistan to Fazilka village on the border with India.
Shareholders of this project which include the state concern Turkmengaz, Afghan gas Enterprise, private Inter State Gas Systems, Pakistani Limited and Indian Gail Limited achieved their first investment agreement worth $200 million on April 7.
These funds will be spent on financing the detailed engineering studies of the route, as well as studies on the ecological and social impacts on the environment. In addition, the study will determine the total investment required for the construction of the transnational gas pipeline.
Overall, the construction is estimated to take up to 3 years to complete.
The implementation of the TAPI pipeline will not only contribute to Turkmenistan's economic growth and diversify its gas export markets, but also enhance energy security in the region. Its construction will help to improve energy security in Afghanistan, Pakistan and India.
TAPI will strengthen Turkmenistan's role as a gas supplies to the southeastern Asia.
TAPI is also seen as an opportunity to pave the way for restoring political and social stability and peace in Afghanistan. It could contribute to the rehabilitation of the war-torn country.
---
Fatma Babayeva is AzerNews' staff journalist, follow her on Twitter: @Fatma_Babayeva
Follow us on Twitter @AzerNewsAz
Related News