EU, Georgia look forward to initialing of association agreement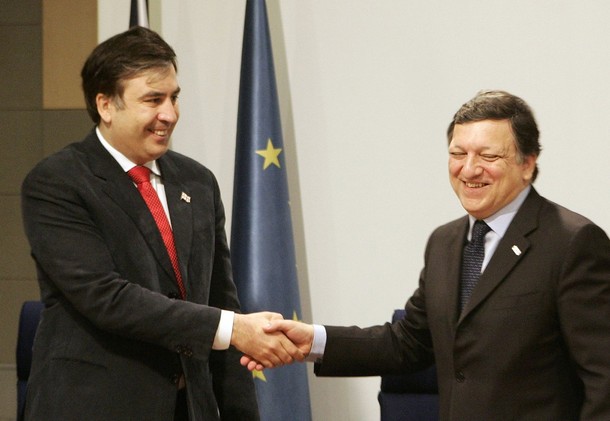 By Nazrin Gadimova
The EU looks forward to initialing the Association Agreement with Georgia in the Eastern Partnership Vilnius summit on November 28-29, President of the European Commission said on October 29.
"We hope that initialing the Association Agreement between the EU and Georgia will happen at the summit in Vilnius," Jose Manuel Barroso said after a meeting with Georgian outgoing President Mikheil Saakashvili in Brussels.
Barroso expresses his belief that Georgia had made significant progress in building a democratic, law-based society under Saakashvili's presidency.
"During President Saakashvili's term, Georgia has achieved remarkable progress. It is important now to make sure that this progress in Georgia is further consolidated both politically and economically," he said.
He also said that it was important for Saakashvili's UNM party "to continue making a constructive contribution to Georgia's political debate while in opposition.
In the meeting, Saakashvili said that he found the answer to his question whether or not Georgia was a more stable and developed country compared to a few years ago.
"Mr. Barroso assured me that Georgia is a stable country today," he said, thanking the EU for its cooperation.
As for finalizing the Association Agreement, Barroso and Saakashvili expressed hope to sign the document in November, 2014.
Georgia started negotiations on the Association Agreement in July 2010. The Agreement will replace the 1996 agreement on partnership and cooperation with the EU.
Georgia expects that initialing the association agreement with the EU at the Eastern Partnership Summit be held in Vilnius on November 28-29. The Georgian government has announced that it will try its best to achieve certain results.