3 April 2019 18:00 (UTC+04:00)
2 336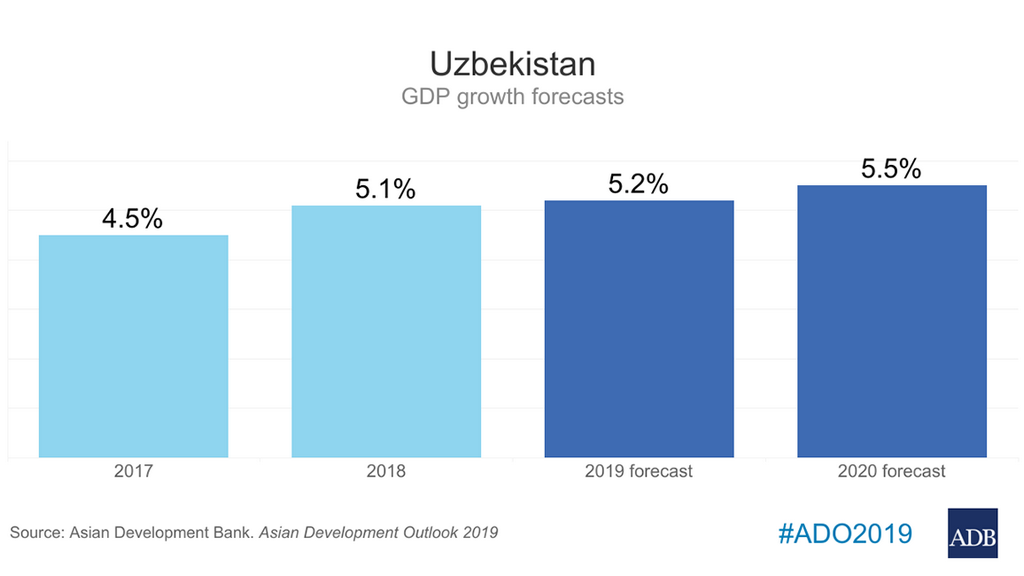 By Abdul Kerimkhanov
High infrastructure spending, improved investment climate, increased exports and growth in agriculture supported Uzbekistan's economic growth, but risks associated with constant credit expansion, accelerating inflation and increasing current account balance deficit remain, a new report by the Asian Development Bank (ADB) said.
In the Asian Development Outlook 2019, ADB forecasts GDP growth in Uzbekistan at 5.2 percent in 2019 and 5.5 percent in 2020, after 5.1 percent in 2018. The Outlook is the main annual economic publication of the ADB.
"The Government of Uzbekistan is on its way to achieving its goal of transforming the country into a developed market economy," said Ms. Cindy Malvicini, Director of the Permanent Mission of ADB in Uzbekistan.
She noted that full-scale reforms will create a favorable climate for business development in the country, reduce inequality, increase productivity and achieve long-term sustainable growth.
In 2018, investments became the main engine of growth, which led to an increase in gross fixed capital formation up to 18.1 percent, compared with 7.1 percent in 2017. Increased investment in manufacturing, housing, energy and mining operations was fueled by 36.6 percent growth foreign investment and lending of fixed capital.
Growth in industry, excluding construction, doubled to 10.6 percent in 2018, and was due mainly to an increase in the share of manufacturing, mining and quarrying. Construction increased by 9.9 percent compared to 6 percent in 2017 due to the growth in the construction of housing and industrial facilities.
The long-lasting effect of currency liberalization, together with higher prices for utilities, liberalization of bread prices, higher wages and pensions, and rapid lending, accelerated inflation.
The average inflation rate rose from 13.7 percent in 2017 to 17.9 percent in 2018, despite the stability of the exchange rate, tight monetary policy and the abolition of customs duties on the import of basic foodstuffs.
Investments are expected to remain the main drivers of economic growth in 2019, thus reflecting the further improvement of the investment climate and the implementation of investment programs for the modernization of production, the mining industry, power generation, transportation and housing.
Private consumption is expected to benefit from wage increases.
Inflation is projected to decrease to 16 percent in 2019 and further to 14 percent in 2020, as credit growth within government programs slows down and further optimization of customs procedures will facilitate imports.
Inflationary pressures will continue as a result of rising energy prices in November 2018, further planned increases in electricity and natural gas prices in June 2019, subsequent adjustments to wages and pensions, and upward changes in customs duties on imports.
The current account balance deficit is expected to remain high, at 7 percent of GDP in 2019, and to decline slightly to 6.5 percent in 2020. Exports of goods are expected to grow by 10 percent in 2019 and by 12 percent in 2020, reflecting rising gold prices, stable demand for natural gas from China, an increase in agricultural exports to Russia and neighboring countries, and further processing of cotton into textile products.
Growth in imports of goods is projected at 25 percent in 2019 and by 20 percent in 2020, as the demand for infrastructure projects and the continued modernization of the industry will increase imports for these sectors.
External borrowing for state development programs is projected to increase external debt to 35 percent of GDP in 2019 and 2020.
The report proposes to prioritize reforms in the field of irrigation, where there are problems of land degradation and water scarcity. The government is encouraged to develop a long-term sector strategy that takes into account issues of adaptation and mitigation of climate change, farmers' access to services and financing, and securing the right to use land.
In addition, Uzbekistan should promote transboundary water management and climate resilience through cooperation with neighboring countries.
Since joining ADB in 1995, Uzbekistan has received 70 loans totaling $ 7.4 billion, including two private sector loans totaling $ 225 million.
ADB also provided $ 6 million in equity investments, $ 218 million in guarantees, and $ 87.3 million in technical assistance grants.
ADB signed five loans totaling $ 1.1 billion in 2018, to improve energy efficiency, improve primary health care services, access to finance for farmers and fruit and vegetable producers, and access to drinking water in western Uzbekistan.
---
Abdul Kerimkhanov is AzerNews' staff journalist, follow him on Twitter: @AbdulKerim94
Follow us on Twitter @AzerNewsAz
Related News