13 September 2017 16:27 (UTC+04:00)
1 484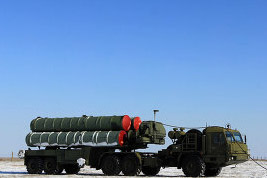 By Kamila Aliyeva
Turkey's decision to purchase Russia's S-400 air missile defense system caused great concern among Ankara's western partners.
The S-400 is Russia's next-generation air defense system, carrying three different types of missiles capable of destroying aerial targets at a short-to-extremely-long range. The weapon is capable of tracking and destroying all existing aerial targets, including ballistics and cruise missiles.
The United States is displeased with Ankara's decision to buy Russian S-400 missile systems, Pentagon spokesman Johnny Michael said on September 12 while commenting on reports that Turkey has already paid Russia a deposit for the S-400.
"We brought to the attention of Turkish officials that we are concerned about the potential acquisition of the S-400. We are conducting an open dialogue [with Turkey] on this issue and stress the importance of maintaining interoperability within NATO in the implementation of major military procurement programs," TASS reported quoting Michael.
Russia's Presidential Aide on military cooperation Vladimir Kozhin earlier confirmed that Russia and Turkey have signed a contract for the supply of S-400 anti-aircraft missile systems.
Under the $2.5 billion agreement Ankara would receive two batteries of the antiaircraft missile from Moscow within the coming year and then produce two more batteries in Turkey
The deal raised eyebrows among Ankara's fellow NATO members as they are supposed to only buy compatible weapons systems from other members.
Michael recalled that Turkey is NATO's key ally and the U.S. and Turkey maintain a high level of relations relating to military procurement.
"Turkey is a key NATO Ally, and we are committed to our strong defense partnership," he went on to say. "The United States and Turkey have a robust and significant defense-trade and military-sales relationship. Turkey continues to pursue anti-missile systems from NATO Allies, including the U.S., for its broader, long-term missile defense needs."
He added that the best way to protect Turkey from various threats in its region remains the NATO-compatible missile defense system.
Turkey has the second-largest military force in NATO, after the U.S., but ties among the NATO allies have worsened last July after a failed coup attempt. Relations further deteriorated following an April referendum which expanded the powers of the president.
Ankara also objects to some NATO members' military support for Syrian Kurdish rebels, who are linked to PKK terrorists.
Earlier, German Foreign Ministry stated that Germany froze arms supplies to Turkey.
Germany has put all big arms exports requests from Turkey on hold, German Foreign Minister Sigmar Gabriel said, amid the bitter dispute with Ankara. Ankara said the decision weakens Turkey's fight against terrorism.
Later, Chancellor Angela Merkel said that Germany would only restrict some arms sales to Turkey, softening the earlier announcement of a freeze on major arms sales, Reuters reported.
She told broadcaster NDR that Germany would decide on arms sales requests from Turkey on a case-by-case basis, noting that Berlin cooperated with Ankara on security matters.
Ankara has already reacted positively to Merkel's comments, as Turkish Foreign Minister Mevlut Cavusoglu said that his country found the German chancellor's stance more suitable
The minister went on to say that Germany's decision to put arms deals with Turkey on hold would only make Turkey stronger and help it develop its defense industry. "Such approaches would only lead to strengthening our national defense industry," he told the Turkish media, adding that his country is already actively developing its military-industrial complex.
---
Kamila Aliyeva is AzerNews' staff journalist, follow her on Twitter: @Kami_Aliyeva
Follow us on Twitter @AzerNewsAz
Related News