Lavrov to Tillerson: Russia regrets US opposes proposal on Idlib incident probe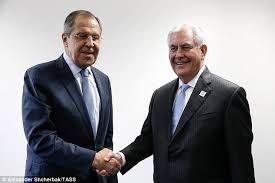 By Trend
Russian Foreign Minister Sergei Lavrov told US Secretary of State Rex Tillerson in a phone conversation that Moscow regrets that Washington opposes a proposal to send inspectors to Syria to probe the alleged chemical attack in Idlib, Sputnik reported.
On Thursday, the OPCW rejected voted against the Russian and Iranian proposal on investigation of a suspected chemical weapons incident in Syria's Idlib.
"Lavrov expressed regret over the fact that at the OPCW the US opposed Russia's initiative to send inspectors to Syria to verify allegations of sarin use in Khan Shaykhunon April 4 and of the presence of poisonous substances on the Syrian Sha'irat airbase."
Lavrov and Tillerson agreed to study a possibility of launching an unbiased investigation into the Idlib incident under the Organisation for the Prohibition of Chemical Weapons (OPCW) auspices, the Russian Foreign Ministry said.
The sides also discussed bilateral ties, including the controversy over the seizure of Russian diplomatic property in the United States, the statement said.
On April 4, the National Coalition for Syrian Revolutionary and Opposition Forces claimed that 80 people were killed and 200 injured in a suspected chemical attack in Khan Sheikhoun, putting the blame on the Syrian government. Damascus vehemently rejected the accusations and said militants and their allies were responsible.
According to the Russian Defense Ministry, the Syrian Air Force hit a warehouse where militants stored chemical weapons, which were sent to Iraq. The Russian Foreign Ministry reminded that the Syrian government doesn't possess chemical weapons since mid-2014. Chemical weapons have been taken out of the country with US' help.
In response to the Khan Sheikhoun incident the United States launched 59 Tomahawk cruise missiles at the Syrian military airfield in Ash Sha'irat, located about 40 kilometers (25 miles) from the city of Homs. Russia described the attack as an aggression against a sovereign state.
In January 2016, the OPCW announced that all chemical weapons in Syria had been destroyed.
---
Follow us on Twitter @AzerNewsAz