ACG partners achieve high environmental performance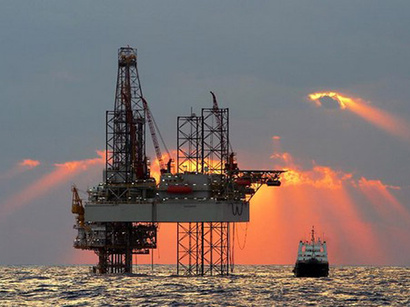 By Aynur Jafarova
As a result of measures taken within the project on developing the giant Azeri-Chirag-Guneshli (AGC) block of oil and gas fields in the Azerbaijani sector of the Caspian Sea, the volume of flared associated gas at the Chirag field was brought to 2 percent, Azerbaijan's state energy company SOCAR said on August 26.
This result was achieved thanks to reconstruction of gas trapping compressors on the platform of the Chirag field as well as improvement of the gas collection system in the Oil Rocks field, developed by SOCAR's Azneft production association.
"This is the best result over the last 20 years," SOCAR said.
According to SOCAR's report, this means annual reduction of emissions by 265,000 tons of carbon dioxide into the atmosphere.
In addition to Azneft, which runs onshore and offshore oil producing companies, SOCAR includes the state-run chemicals producerAzerkimya and gas supplier Azerigas.
In cooperation with foreign partners, SOCAR is involved in major projects such as the development of the ACG fields and the giant Shah Deniz gas condensate field in the Caspian Sea.
Also, the state energy company has a number of processing and service enterprises as well as institutions involved in geophysical and drilling operations.
The ACG block of fields has been producing since 1997. The production started from the Chirag part of the field and continues successfully. This was followed by the Azeri Project: Central Azeri production started in February 2005, West Azeri began producing in December 2005, and East Azeri came on stream in October 2006. The Deepwater Gunashli section launched production in April 2008.
Equity participation in the ACG contract is as follows: BP (operator) with 35.78 percent, Chevron with 11.27 percent, Inpex with 10.96 percent, AzACG with 11.65 percent, Statoil with 8.56 percent, Exxon with 8 percent, TPAO with 6.75 percent, Itochu with 4.3 percent; Hess has sold its 2.72 percent share to India's ONGC.
In February 2013, SOCAR and the World Bank (WB) signed an agreement on the fourth phase of cooperation between the company and the Global Gas Flaring Reduction Partnership (GGFR).
It was stressed during the signing ceremony that SOCAR managed to collect and deliver more than 500 million cubic meters of gas to consumers, preventing the release of 8 million cubic meters of carbon dioxide.
GGFR will continue cooperating to reduce the volume of flared associated gas, as well as hold a dialogue with SOCAR on possibly using associated gas extracted from the ACG within a new phase of cooperation.
Moreover, GGFR will support SOCAR and Azerbaijan's Ministry of Ecology and Natural Resources to develop legislative and regulatory mechanisms to reduce the gas flaring volumes.