10 April 2019 15:26 (UTC+04:00)
2 371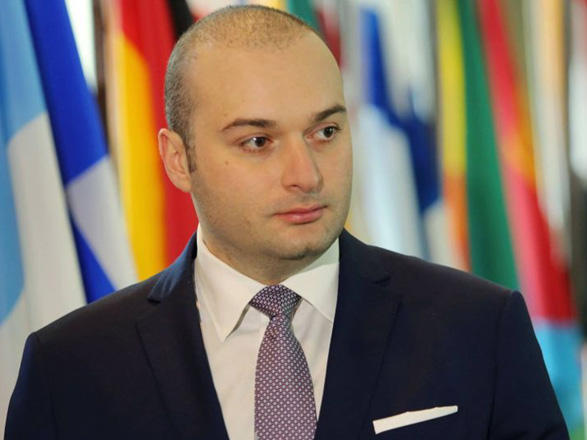 By Mirsaid Ibrahimzade
Georgia is ready to explore opportunities to increase energy flow through the Baku-Tblisi-Ceyhan (BTC) oil pipeline, said Mamuka Bakhtadze, Prime Minister of Georgia, Trend reports.
He made the remarks during the spring session of the Parliamentary Assembly of the Council of Europe (PACE) in France, answering the question of Azerbaijani MP Ganira Pashayeva.
"Azerbaijan is a strategic partner of Georgia," he said, adding that the two countries together have implemented historical projects, such as Baku-Tbilisi-Kars, Baku-Tbilisi-Ceyhan, also Southern Gas Corridor and many others.
"We think that we are not fully utilizing the resources of the Caspian Sea and of course, we can contribute to the energy security of Europe more. We have this dialogue with our European colleagues. There are few capacities for example in Baku-Tbilisi-Ceyhan and of course, we will be very happy explore this opportunity together with Azerbaijan to increase the energy flow in our corridor," added Georgian PM.
The Baku-Tbilisi-Ceyhan oil pipeline has been established to ensure access to crude oil produced at ACG field in the Caspian Sea under the "Contract of the Century".
The length of the pipeline is 1,768 km, 443 km runs through Azerbaijan, 249 km - through Georgia and 1,076 km - through Turkey. Daily transport capacity of the pipeline is 1.2 million barrels.
The crude oil delivery to the first tanker at the Ceyhan terminal took place in the summer of 2006.
The first delivery of approximately 600,000 barrels of Azeri-Chirag-Guneshli (ACG) crude oil, transported through Azerbaijan, Georgia and Turkey, was loaded on the British Hawthorn tanker on June 4, 2006 and dispatched from the new Ceyhan Offshore Terminal. Being a strategic project, it is the first direct link between the Caspian Sea and the Mediterranean.
BTC Co. shareholders are BP (30.10 percent); AzBTC (25.00 percent); Chevron (8.90 percent); Equinor (8.71 percent); TPAO (6.53 percent); Width (5.00percent); Total (5.00 percent), ITOCHU (3.40 percent); (2.50 percent), Exon Mobile (2.50 percent), ONGC (BTC) Limited (2.36 percent),
This pipeline, which is considered to be the main artery of energy export in the region, has played an important role in the extraction of the Caspian Sea's rich energy resources and bringing them to the world markets.
Azerbaijan and Georgia maintain high-level relations in all spheres, especially in energy field. Both countries have already taken initiatives for global projects in the region. Presently, SOCAR is the major supplier of natural gas, oil and oil products to Georgia. It is noteworthy that Georgia is a key transit country for Azerbaijan, through which the Azerbaijan's main pipelines are laid for the supply of oil and gas to the west.
---
Follow us on Twitter @AzerNewsAz
Related News