China backs settlement of Nagorno-Karabakh conflict under UNSC resolutions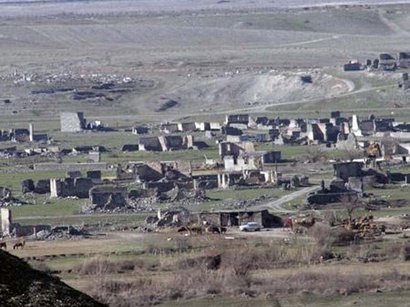 China supports settlement of the Armenian-Azerbaijani Nagorno-Karabakh conflict in accordance with the relevant UN Security Council resolutions and principles of the international law.
Spokesperson for the Chinese Foreign Ministry Hong Lei made the remark as he commented on the so-called municipality "elections" held in Nagorno-Karabakh, an Armenia-occupied region of Azerbaijan, AzerTac state news agency reported.
The so-called 'elections' to the 'self-governing bodies' of the puppet separatist regime that installed by Armenia in Azerbaijan's occupied territories were held on September 13.
Baku condemned the so-called 'elections', describing it as an open violation of international law, stating that it does not have any legal weight.
"The position of China remains unchanged," Hong Lei added.
Armenia occupied over 20 percent of Azerbaijan's internationally recognized territory, including Nagorno-Karabakh and seven adjacent regions, after laying territorial claims against its South Caucasus neighbor that caused a brutal war in the early 1990s.
Following the invasion of Nagorno-Karabakh, Armenia established a separatist regime in the occupied territories and strives for recognition of the puppet regime from the international community.
As a result of the military aggression of Armenia, over 20,000 Azerbaijanis were killed, 4,866 are reported missing, almost 100,000 were injured, and 50,000 were disabled.
Long-standing efforts by U.S., Russian, and French mediators have been largely fruitless so far.The UN Security Council has passed four resolutions on the Armenian withdrawal from Azerbaijani territory, but they have not been enforced to this day.
---
Follow us on Twitter @AzerNewsAz