Droughts threaten Azerbaijan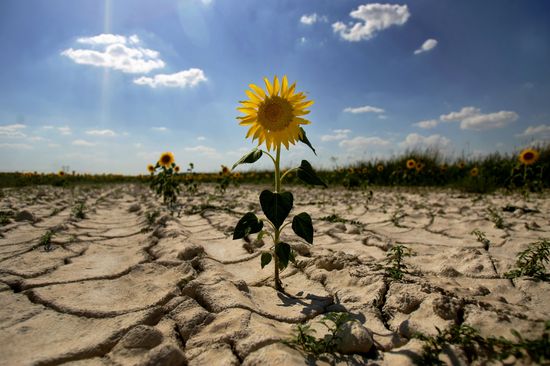 By Nigar Orujova
Climate change will tangle the acute water balance issue in Azerbaijan, experts believe. A report by the World Resources Institute had earlier showed that Azerbaijan would be threatened by drought by 2040.
On the WRI's list of 33 drought-prone countries, Azerbaijan takes the 18th place standing between Macedonia and Morocco.
Azerbaijan will face with a drought for at least seven years, ecologist Telman Zeynalov told local press.
"Due to climate change, spring and autumn are disappearing," he said, explaining that the cause of climate change is a dynamic process in the world and caused by the use of weather weapons.
"A climate weapon is now created by scientists in many countries. The U.S. has the most advanced creation so far. The use of such weapons leads to the fact that the Earth's climate changes greatly," said Zeynalov.
The ecologist believes that no scientist is able to accurately predict the weather.
"It is impossible to prejudge nature. If the UN reports on the drought in Azerbaijan until 2030, this mean that they themselves have created an opportunity for such weather conditions," he said.
According to Zeynalov, due to a lack of rainfall, some rivers flowing through Azerbaijan dry up gradually, saying that the country already has too many dry rivers.
He noted that if 20 percent of the heat comes from the sun, the Earth creates 80 percent itself.
"In January, El Nino stream awoke in the Pacific Ocean. This means that dry weather will last at least 7 years," said Zeynalov.
El Nino is associated with a band of warm ocean water that develops in the central and east-central equatorial Pacific, which has a noticeable impact on the climate.
According to the UN, the number of weather incidents including hurricanes, droughts, floods, storms, have increased over the past 25 years.
So far, Azerbaijan is the one of the countries of the region that faces the greatest water shortage. This summer was another dry season for the country.
Sunny Azerbaijan, with its complicated landscapes, is located at the convergence of several geographic zones and enjoys climatic diversity with its nine distinct climatic zones. The water shortage is a problem not only for residents, but also poses a danger to agriculture and farming.
Last year, a drought in Azerbaijan had damaged agricultural products and destroyed crop fields in soeveral regions.
--
Nigar Orujova is AzerNews's staff journalist, follow her on Twitter: @o_nigar
Follow us on Twitter @AzerNewsAz