11 February 2015 15:01 (UTC+04:00)
1 647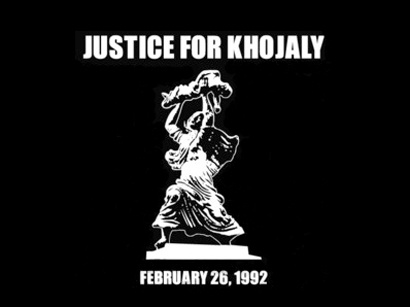 Azerbaijanis in Scotland plan to hold a rally on the 23rd anniversary of the Khojaly genocide on February 26 within the framework of the Justice for Khojaly international campaign.
The Azerbaijani Embassy in United Kingdom will support the commemorative march.
The event will be attended by Scottish National Party (SNP) activist Fuad Alakbarov, Scottish Trade Unionist and Socialist Coalition (STUC) activists Pinar Aksu and Joshua Brown, President of Azerbaijani Glasgow University Society Orkhan Sultanov and others.
Brochures and newsletters about Khojaly tragedy will be disseminated among people from various countries.
In 1992, the town of Khojaly, the second largest town in the Nagorno-Karabakh region of Azerbaijan, came under intense fire from the towns of Khankendi and Askeran already occupied by the Armenian armed forces.
613 civilians mostly women and children were killed in the massacre, and a total of 1,000 people were disabled. Eight families were exterminated, 25 children lost both parents, and 130 children lost one parent. Moreover, 1,275 innocent people were taken hostage, and the fate of 150 of them remains unknown.
The legislative bodies of many countries have already adopted resolutions recognizing the crime committed by Armenians against the peaceful people of Khojaly as genocide.
The parliaments of Pakistan, Mexico, Colombia, Romania, Serbia, Bosnia and Herzegovina, Czech Republic, Jordan, as well as legislative bodies of about 20 states of the Unites States, including Texas, New-Mexico, Arkansas, Oklahoma, Pennsylvania, Connecticut, Western Virginia, New-Jersey and Tennessee are adopted relevant documents.
The Organization of Islamic Cooperation (OIC) adopted a final Cairo Communiqué in February 2013, during a summit held in Egypt's capital, calling the Khojaly tragedy genocide against humanity. The Communiqué calls on the international community to recognize the tragedy as genocide.
- - -
Follow Mushvig Mehdiyev on Twitter: @Mushviggo
Follow us on Twitter: @AzerNews
Related News