President Aliyev says Azerbaijan has a powerful economic basis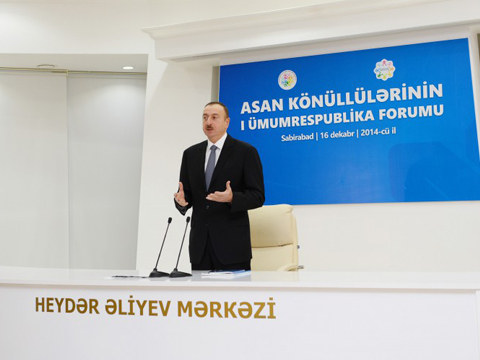 By Mushvig Mehdiyev
Azerbaijani citizens will not feel the oil price decrease on the world market.
Azerbaijani President Ilham Aliyev made the remark in his speech at the first All-Republican Forum of ASAN Volunteers in the Heydar Aliyev Center in the Sabirabad region on December 16.

"The oil prices have sharply decreased," the president said. "Has anyone felt this in Azerbaijan? No, and no one will feel this because we have a powerful economic basis."

President Aliyev went on to add that manat rate is stable. "This testifies to the fact that Azerbaijan also has economic power, a well thought-out policy and a social policy," the president said.

"Perhaps, stable manat rate is not a very positive factor for our export potential," President Aliyev said. "But this is a social issue. And this must be this way."
As a part of his Sabirabad visit, President Aliyev firstly visited the statue of national leader Heydar Aliyev in Sabirabad's central square, laying flowers at the statute on December 16.
The president then attended the opening of ASAN center of Sabirabad branch of the State Agency for Public Service and Social Innovations.
Later, the president attended the ceremony to launch the newly built 62 km-long water pipeline to supply the city of Sabirabad with drinking water.
The next ceremony attended by President Aliyev was the opening of a kindergarten, constructed on an initiative by the Heydar Aliyev Foundation.
President Aliyev also reviewed the Cultural House in the city of Sabirabad, which underwent a major overhaul.

Then the president took part at the inauguration of Nizami-Alilambayli-Azadkand-Sarkhanbayli highway in Sabirabad.

Following his visit, President Aliyev signed a decree on measures to construct the Sugovushan-Garalar-Gafarli-Ahmedabad-Narimankand-Hashimkhanly highway in Sabirabad.

The head of state ordered to allocate 3 million manat ($3.8 million) from the President's Reserve Fund to the Sabirabad Executive Authorities.