4 November 2014 12:14 (UTC+04:00)
2 139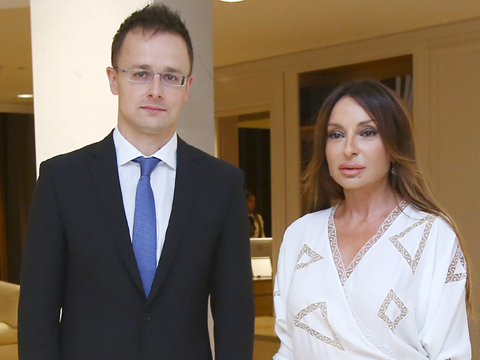 By Nigar Orujova
The Azerbaijani-Hungarian cooperation covers a number of fields, Azerbaijan's First Lady, President of the Heydar Aliyev Foundation Mehriban Aliyeva said at the meeting with Hungarian Minister of Foreign Affairs and Trade Peter Szijjarto.
Szijjarto arrived in Azerbaijan for an official two-day visit on November 3.
Aliyeva praised the development of relations between the two sides in economic and humanitarian areas.
Touching upon the activity of the Hungarian embassy in Azerbaijan, the First Lady highlighted the good relations between the embassy and the Heydar Aliyev Foundation.
A new block of the Rehabilitation Center for Disabled Children has been built in Budapest by the support of the Heydar Aliyev Foundation, she added.
Speaking about the publishing of the "Azerbaijani-Hungarian cuisine" book, Aliyeva stressed the importance of increasing the number of such projects in future. She added that the foundation is always ready to cooperate in such fields.
Saying it was his fifth visit to Azerbaijan, Szijjarto praised the dynamic development of Azerbaijan's economy.
The minister said that he had eye-witnessed a lot of big changes in Azerbaijan every time he visited the country. He also hailed the projects implemented by the Heydar Aliyev Foundation in the country and abroad.
The "Azerbaijani-Hungarian cuisine" book was unveiled n Baku on the same day.
Culinary culture - is one of the values ​​that bring people together. Each nation with an ancient and rich cuisine has a chance to be recognized on the wide world space. As part of a series of works for promotion of Azerbaijan's culture, similar books have already been published in recent years.
The Azerbaijani-Hungarian cuisine book was published with the support of the Heydar Aliyev Foundation, the Heydar Aliyev Center and the Hungarian embassy in Azerbaijan.
The book, published in Azerbaijani and Hungarian languages​​, provides detailed information on the national dishes of the two peoples, as well as information about the rich culinary samples.
At the presentation ceremony, the participants noted the development of relations between Azerbaijan and Hungary in the political, economic, cultural and other spheres.
Hungarian ambassador Zsolt Csutora praised the projects implemented by the foundation.
Stressing his love for Azerbaijani cuisine, the diplomat said that his feeling is rooted in his strong attachment to the country.
"Azerbaijan is well aware of Hungary," Csutora said, noting that the development of bilateral relations is associated with numerous high-level visits.
"It was not difficult for me to publish two books about the Azerbaijani-Hungarian cuisine. I love to eat, love to cook, and also feel a sense of boundless love for Azerbaijani and Hungarian cuisine," he added.
Peter Szijjarto, who also attended the presentation ceremony, described the publication of the book as a contribution to the friendly relations between the two countries and stressed that the readers of the new edition will directly meet two people and certainly would love them.
Related News