500-day countdown starts for Baku Games 2015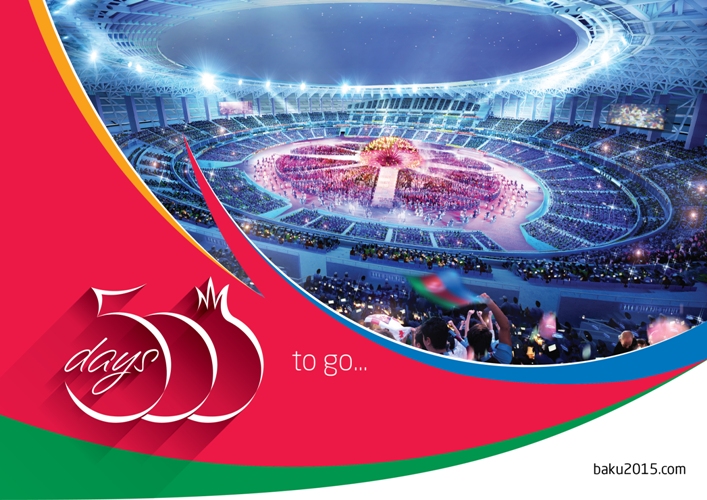 By Nigar Orujova
The 500-day countdown to the opening ceremony of the first European Games in Baku (Baku Games 2015) has begun.
Organisers of the event have promised they are on target to host a spectacular festival of sport.
Baku Games 2015, to start on June 12, will involve around 6,000 competitors across 19 sports, including new formats and disciplines featured for the first time at a major European sports event.
The list of sports includes Aquatics, Archery, Athletics, Badminton, Basketball 3x3, Beach soccer, Boxing, Canoe Sprint, Cycling, Fencing, Gymnastics, Judo, Karate, Shooting, Table tennis, Taekwondo, Triathlon, Volleyball, and Wrestling.
The European Games in Baku next year will be the fulfillment of a long-held aspiration by the European Olympic Committees to stage a major, pan-continental, multi-sport event for the Olympic nations and athletes of Europe.
Baku Games organizers will begin sending sports qualification information to the 49 National Olympic Committees of Europe that will participate in the Baku 2015 Games.
Organisers also announced that no fewer than seven sports on the Baku Games competition programme will use the Games as a qualifying platform for the Rio 2016 Olympic Games, including Cycling, Shooting, Swimming, Table Tennis, Taekwondo, Triathlon and Beach Volleyball. Other Baku 2015 sports may also be added to the Olympic qualification list.
Senior International Olympic Committee (IOC) member and president of the European Olympic Committees, Patrick Hickey, said Baku is well placed to deliver a top-level sporting competition at the Games next year.
"I wish Baku well as it enters the final 500 days of Games preparations, and I am confident that Baku will stage a high quality sporting event that will make Europe proud. We congratulate everyone involved in Baku 2015 for reaching this important milestone, and for the continued progress in preparing to stage a spectacular sporting event and experience for the athletes and nations of Europe," he said.
Azerbaijan Minister of Youth And Sports Azad Rahimov, Chief Executive of the Baku 2015 Operating Committee, said each passing day brings the responsibility and honour of staging the first European Games in Baku into sharper focus, and emphasised that new infrastructure and ways of working for the Games will provide long term legacies that will transform the host city and country.
"The large scale building projects for the Games will provide benefits for our cities, communities and young people for decades to come - from the new airport to the 13 transport upgrades to boost the underground and bus systems, while the new world-class venues will inspire more young people to participate in sport and provide a new home for sport in Europe," he said.
Rahimov said the involvement of local Azerbaijani planners, service providers and companies in diverse areas of Games preparations will leave a valuable legacy of local knowledge and experience across many sectors, from business and technology to tourism, culture and the creative industries.
"This will help to further establish Baku and Azerbaijan as a dynamic new destination in Europe for sports, business, tourism and culture," he said.
Detailed planning is also well underway to ensure local Azerbaijani residents and communities participation in this once-in-a-lifetime event - the largest the country has hosted - through ticketing, volunteering, culture and other key Games programmes.
Organisers said that construction remains on target for Games venues - including the Athletes Village, already regarded as one of the best accommodation and preparation facilities for elite athletes - and that some venues will be ready for test events as early as this year.
Jim Scherr, Chief Operating Officer of the Baku 2015 Operating Committee said, "Good progress is being made and momentum is continuing to build, but there will be no complacency among our teams".
"There is a great deal that still needs to be done during the next 500 days to fulfil our responsibilities to the European Olympic Committees, the people of Azerbaijan and the athletes of Europe, but we are pleased with our progress to date," he said.