20 November 2013 09:46 (UTC+04:00)
1 326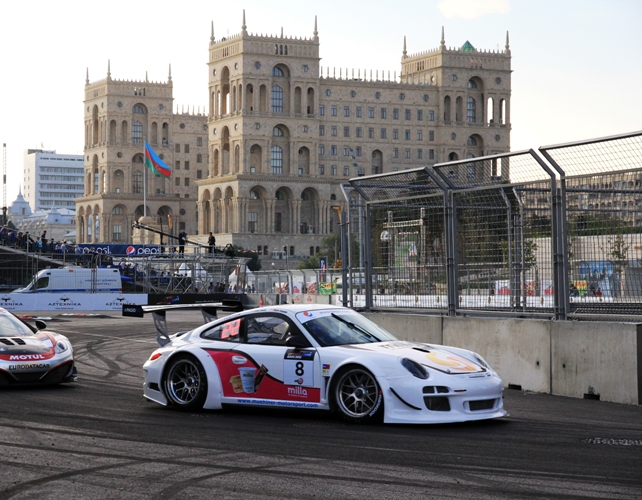 By Nigar Orujova
Car traffic will be limited in several streets in the central Sabail district of capital Baku on November 21-24.
The restrictions are because of a car racing GT3 that will be held there, the Baku State Traffic Police department said.
The first-ever Baku World Challenge race will take place on November 23-24, and will be powered by Aztexnika. Baku World Challenge is expected to be a thrilling event that will reward the competitors for their true racing skills and provide an unforgettable occasion for the city's residents.
Car traffic will be restricted and changed the direction of traffic movement on the following streets: Mikail Useynov, Gurban Abbasov, Agil Guliyev, Aydin Nasirov, Ahmed Yagubov, Alibekov brothers, Aydin Mammadov and Ali Nazmi, due to the guests' reception, the competition, and the parade, qualifying, and final stages of racing.
The Federation Internationale de l'Automobile (FIA) GT Series is a GT3 sports car racing championship that holds races in six countries, with each event consisting of two races over the weekend, mostly concentrated in Europe.
More than 30 cars in 13 racing teams from France, Italy, Spain, and Germany involving over 700 people from Paris, London and Dusseldorf will attend the rousing GT3 racing in the "city of lights".
The cars will take a few laps on a pre-planned route of 4 kilometers. The international competition will be broadcasted by over 165 TV channels from around the world and is expected to attract some three million audiences.
The event will also show 15 historical Formula 1 racing cars to the public some.
The cars will start the race from the State Flag Square, pass through the State Fire Protection of Sabail district, Useynov and Guliyev Streets, and the Baku-Salyan Highway in the direction of the Bayil Circle, and come back to the Flag Square.
The list of the participants for Baku World Challenge includes 3 WRT Audi, 3 HTP Mercedes, 2 BMW Team Brazil, 2 Sebastien Loeb Mc Laren, 2 RJN Nissan, 2 Rodrive Lamborghini, 1 Seyfarth Mercedes, 1 Novadriver Audi, 2 AF Corse Ferrari, 1 Team India BMW, 2 Phoenix Audi, 1 Grasser Lamborghini, and 2 Reiter Lamborghini.
According to FIA GT Series, the teams will be racing for a stunning prize fund of €175,000 that will distributed by the Host City of Baku as €100.000 for the winning team in the Main race, €50.000 for the second team, and €25.000 for third team.
All the teams will also benefit from a €20.000 starting prize package in addition to air-freight costs, plane tickets, and hotel and catering expenses.
Last October, Baku hosted the first racing Baku City Challenge, which presented a spectacular urban motorsport experience, and attracted the attention of the city's residents.
Related News