UNICEF lauds Children Paralympic Committee in Azerbaijan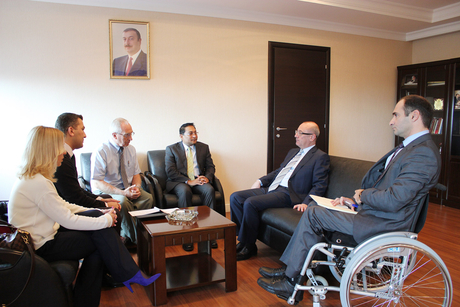 By Nigar Orujova
UNICEF Deputy Representative in Azerbaijan lauded the establishment of Children's Paralympic Committee in Azerbaijan.
The Committee is a first such body on a global scale.
"Establishing the first Children's Paralympic Committee in the world and involving physically disabled children in sports is a praiseworthy step," Rashed Mustafa said at his meeting with President of National Paralympic Committee Ilgar Rahimov.
According to him, Azerbaijan has already earned world fame as a sports-oriented nation, and the Paralympic movement is developing in the country at a rapid pace.
Mustafa said UNICEF was honored to support Azerbaijan`s National Paralympic Committee in "this noble undertaking".
He stressed the importance of inviting international experts to Azerbaijan, adding that it would contribute to developing the children`s Paralympic movement in the country.
Ilgar Rahimov highlighted Azerbaijan's success in the Paralympic movement and the steps taken by the government to promote sports in the country.
"This historic event is a clear evidence of the government's care for and attention to the Paralympic movement in the country. The establishment of such a committee will lead to the rehabilitation and development of disabled children and their integration into society," Rahimov said.
The National Paralympic Committee and the UNICEF signed a Memorandum of Understanding on the formation of the children's Paralympic movement and its development in October.
The movement aims at encouraging more disabled children in the country to engage in sports and physical education.
Azerbaijani Paralympic athletes participated in the 10th Atlanta Summer Paralympic Games in 1996 for the first time in the history of Paralympic sports in Azerbaijan, with two athletes representing two sports.
Azerbaijani athletes achieved great success at the Summer 2012 Paralympic Games in London, gaining 12 medals and becoming 27th out of a total of 166 countries. At the Paralympic Games in Beijing in 2008, Azerbaijan won 10 medals, ranking 37th.
Azerbaijani Paralympic athletes are currently participating in the competitions in 10 sports.
Earlier, a strategic action plan for the National Paralympic Committee for 2013-2016 was approved to make preparations for the 2016 Rio de Janeiro Summer Paralympics.
The plan includes the expansion of the Paralympic movement in all regions of the country, the development of professional sports for the disabled, the expansion of relations with international sports organizations, and the involvement of disabled children in sports.