'High Service to Turkish World' award presented to TRT head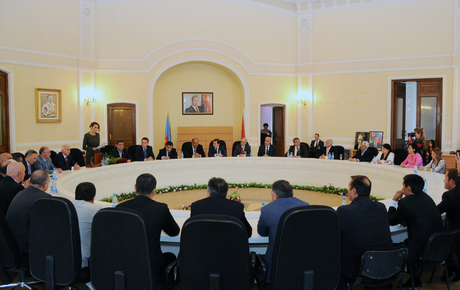 Director General of Turkish TRT channel Ibrahim Shahin, who was on a visit to Azerbaijan, was awarded with the "High Service to Turkish World" award on September 30, AzerTag state news agency reported.
The event brought together members of the board of directors of Azerbaijan`s Press Council, as well as representatives of the NGOs, MPs, heads of the leading mass media of Azerbaijan.
Addressing the event, MP Ganire Pashayeva delivered a speech at the event, adding the Eurasia International Research Institute and International Eurasia Press Fund (IEPF) have founded this award.
Head of the Ataturk Centre in Azerbaijan, MP, Chairman of the Cultural Committee in the country`s Parliament Nizami Jafarov touched upon the relations between Azerbaijan and TRT channel.
The event also saw speeches by Turkish Ambassador Ismail Alper Coshkun, Press Council Chairman Aflatun Amashov, Executive director of State Fund for Support of Mass Media Development under President of Azerbaijan Vugar Safarli, MP, Musa Gasimli, Chairman of the IEPF Umud Rahimoglu, rector of the Odlar Yurdu University, MP Ahmad Valiyev.