Withdrawal of General Staff from Defence Ministry structure under discussion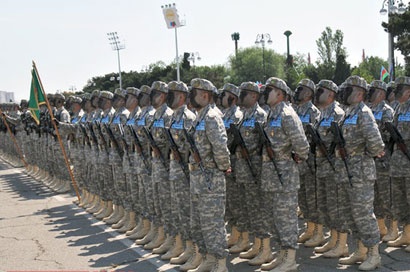 The General Staff has to be withdrawn from the structure of Defence Ministry in Azerbaijan, Azerbaijani MP, member of the Parliamentary Committee on Security and Defence Zahid Oruj told Trend news agency.
Assigning a higher status to the General Staff of Azerbaijani Armed Forces can contribute to a qualitative change in the army, the deputy believes.
He noted that it is necessary to implement a number of measures to restore the legal issues in the military.
"First of all, given the burden of contingent of more than 110,000 people on state budget, and in order to increase transparency in this process in Azerbaijan, it is necessary to consider the military posts, study the situation in the region, and consider the possibility of certain changes despite the military conditions," he said.
Oruj said Azerbaijani army building has to be integrated in the European system.
"Assigning a high status to the General Staff will create conditions for modernization of briefing system, increasing transparency, implementation of law-based measures," Oruj said.
Attention should be paid to the preparation of citizens to military system, their rapid psychological adaptation, the MP said.
According to military expert Uzeyir Jafarov, in connection with application of NATO standards, the authority of the Defense Ministry and the General Staff has to be divided in the future,
"Control over the combat readiness of the army and the armed forces should be conducted by the General Staff, whereas the Ministry of Defence has to act as a lobbyist for law enforcement agencies in the government, protecting their interests and raising the issues of their concern," Jafarov said.
However, this issue can be resolved only after the settlement of the Armenian-Azerbaijani Nagorno-Karabakh conflict, the expert added. Currently, the main challenge is to mobilize, uniting all forces within the existing structure to resolve the conflict, Jafarov said.