Azerbaijan publicizes humanitarian aid volume to Turkiye's quake-hit regions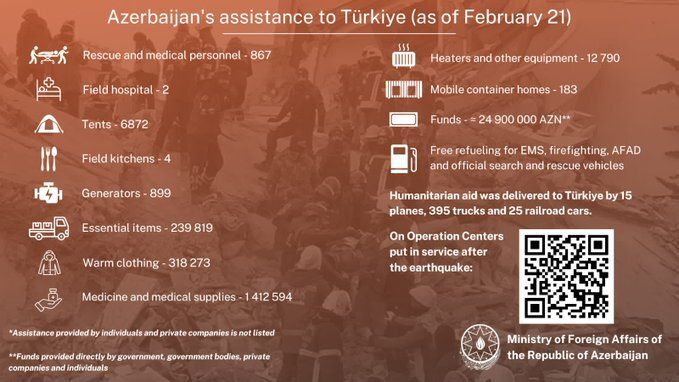 The volume of humanitarian aid Azerbaijan dispatched to the earthquake-hit provinces of Turkiye has been announced, Azernews reports, citing a tweet by the Foreign Ministry.
After the February 6 devastating earthquake, Azerbaijan sent 867 rescue and medical personnel, 2 mobile field hospitals, 6,872 tents, 4 field kitchens, 899 generators, 239,819 essential items, 318,272 warm clothing, 12,790 heaters, and other technical equipment, 183 mobile container homes, 1,412,594 medicine, and medical supplies to Turkiye's provinces hardly hit by the earthquake.
In addition, Azerbaijan allocated nearly AZN25m ($14.7m) in financial aid to help heal the wounds of the earthquake victims. Simultaneously, ambulances, fire brigades, AFAD, and official search and rescue vehicles were provided with free fuel.
Humanitarian aid was delivered to Turkiye by 15 planes, 25 train carriages, and 395 trucks.
---
Follow us on Twitter @AzerNewsAz