Azerbaijanis in Australia fundraise for Turkiye's quake victims [PHOTO]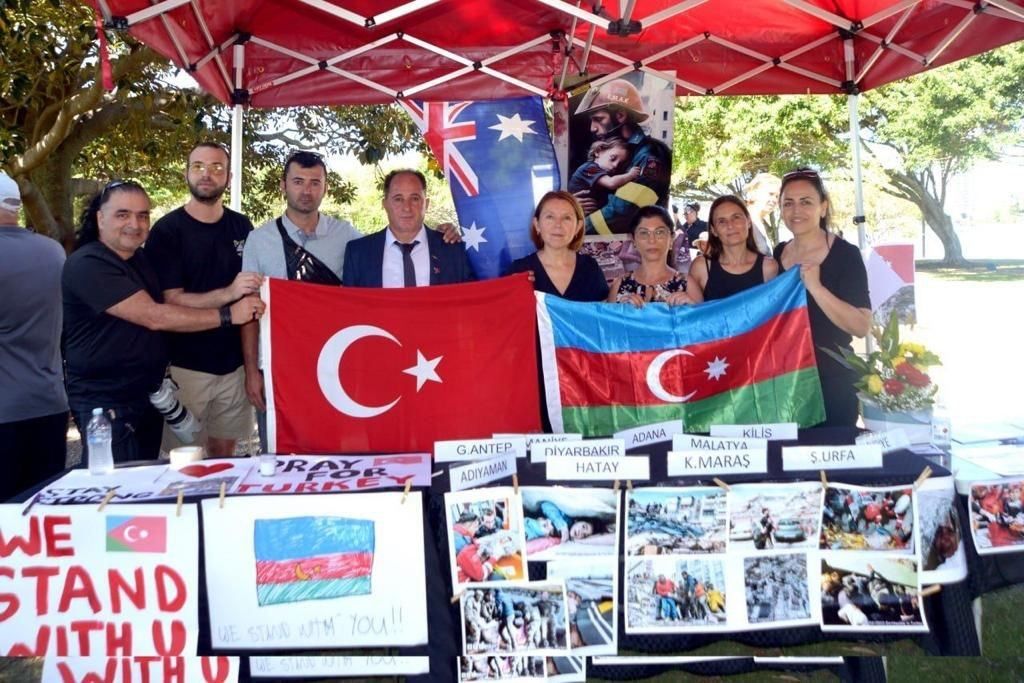 Activists of the Azerbaijani diaspora in Australia have joined the efforts to collect aid for Turkiye's quake-hit provinces, Azernews reports via State Committee on Work with Diaspora.
Some 5,300 Australian dollars (AUD) (AZN6,265 or $3,689) were collected by Azerbaijanis living in Australia; specifically, 3,535 AUD (AZN4,180 or $2,459) were collected in Sydney, 780 AUD (AZN921.4 or $542.6) - in Brisbane, and 1,000 AUD (AZN1,182 or $695.7) - in Perth, Melbourne, and Ballarat. The money was handed over to the Oxfam GB charity and the Turkish embassy in the country.
Ceremonies honoring the victims of the earthquake in Turkiye were held in the Australian cities of Brisbane and the Gold Coast. The head of the state government, the opposition leader, mayors, members of the local community, and members of the Turkish and Azerbaijani communities attended the commemoration ceremony in Queensland, according to the National Association of Azerbaijan.
The ceremonies, which began with the Turkish national anthem, were held to pay tribute to the victims of the earthquake. Event coordinator and Turkish Honorary Consulate General in Queensland Turgut Menli made a speech during which he emphasized the severity of the catastrophe and the significant losses it triggered. He expressed his appreciation to the countries supporting Turkiye during these trying times as well as to the communities participating from Azerbaijan and Northern Cyprus.
He mentioned that the Turkish and Azerbaijani communities in Gold Coast raised $8,500 for the earthquake victims through the Berra Sezgin organization.
"I'd like to thank Berra Sezgin and my Azerbaijani brothers who supported us in this campaign," Menli said.
The European-Mediterranean Seismological Centre reports that on January 6, a 7.4-magnitude earthquake hit central Turkiye. The epicenter of the earthquake was 26 kilometers off Gaziantep with a population of about 1.06 million. The earthquake's epicenter was located 7 km below the surface. According to Turkiye's Disaster and Emergency Management Authority, three more earthquakes with magnitudes of 6.4 to 6.6 shook the province of Gaziantep in southeastern Turkiye.
At the time of writing, the death toll in Turkiye was 31,974.
Azerbaijan was the first country to provide assistance to Turkiye immediately after the earthquake.
The Ministry of Emergency Situations is continuing to send humanitarian aid and rescuers to Turkiye.
---
Follow us on Twitter @AzerNewsAz