US Azerbaijanis protest against Armenian eco-terror in Karabakh [PHOTO]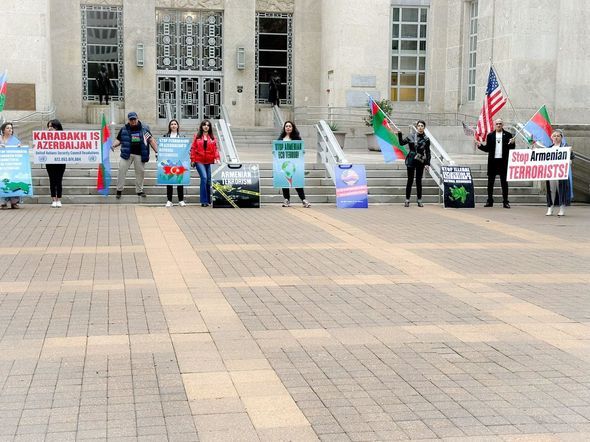 Azerbaijanis living in the USA held a peaceful protest against Armenia's policy of environmental terrorism, Azernews report, citing the State Committee for Work with Diaspora.
Activists of the Azerbaijani community living in Texas participated in the protest organized by the American-Azerbaijani Integration Center Outside the Houston City Hall. The action was organized in order to support the Azerbaijani eco-activists and civil society representatives who have been continuously protesting on the Lachin-Khankandi road.
During the campaign, posters "Karabakh is Azerbaijan!", "Armenian terrorism", "Stop Armenian terrorists!", "Stop the looting of Azerbaijan's natural resources!", "Stop Armenian ecocide!", "Stop environmental terrorism in the territories of Azerbaijan!" were displayed.
Attention was drawn to the fact that Azerbaijanis living abroad will not turn a blind eye to the looting of Azerbaijan's underground and surface resources by Armenia and Armenian separatists, and that environmental terrorism committed in the Karabakh economic region has already become a global problem.
Local residents interested in the protest were given detailed information about environmental crimes committed by Armenia against Azerbaijan.
---
Follow us on Twitter @AzerNewsAz