President Ilham Aliyev receives Executive Director of UN Human Settlements Program [UPDATE]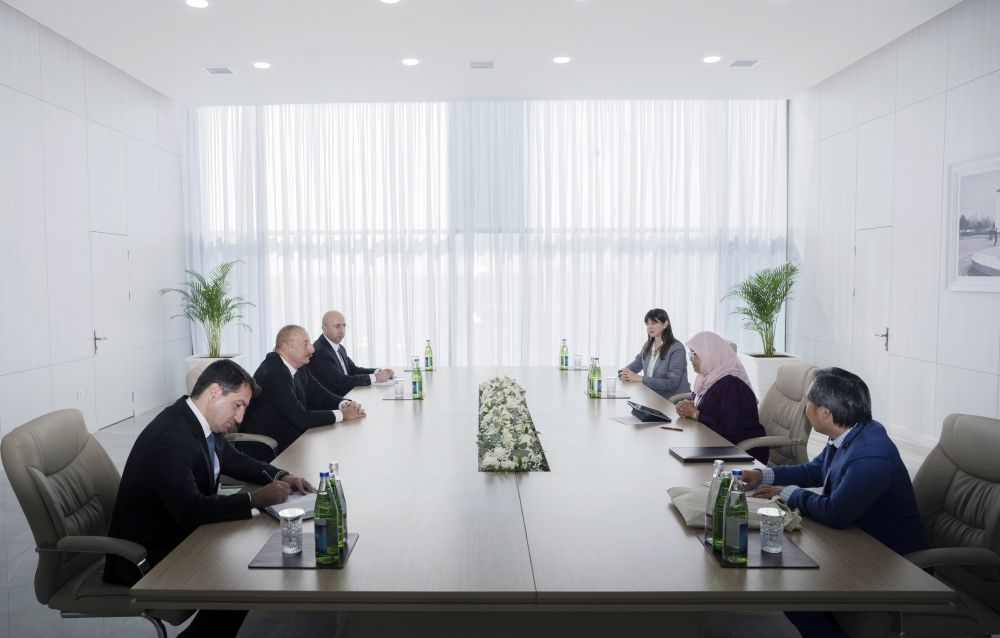 President of the Republic of Azerbaijan Ilham Aliyev has received Executive Director of the United Nations Human Settlements Programme (UN-Habitat) Maimunah Mohd Sharif in Aghdam.
The head of state hailed the cooperation between the UN Settlements Programme and Azerbaijan. President Ilham Aliyev positively assessed the progress achieved in the implementation of the issues discussed during the meeting with Maimunah Mohd Sharif's visit to Azerbaijan in March this year, and noted that Azerbaijan was interested in developing comprehensive cooperation with the UN Human Settlements Programme.
Maimunah Mohd Sharif, Executive Director of the UN Human Settlements Programme, said she was pleased with visiting Azerbaijan again and conveyed her congratulations on the excellent organization of the National Urban Forum. Noting that cooperation between Azerbaijan and the Settlement Programme was developing in a comprehensive manner, Maimunah Mohd Sharif recalled with pleasure the speech of President Ilham Aliyev at the 11th session of the World Urban Forum in Katowice, Poland, the active participation of the Azerbaijani delegation in the meeting of UN-HABITAT in New York, as well as the event in Katowice. She expressed her deep gratitude for the Azerbaijani government's support for the activities of UN-HABITAT, including the voluntary financial contribution.
Touching upon the fact that Azerbaijan was carrying out large-scale urban planning and reconstruction activities in the territories liberated from occupation, the executive director of the UN Human Settlements Programme expressed her admiration with the scale and pace of the work being done in those territories, and emphasized that Azerbaijan had achieved tremendous progress in a short time by applying modern approaches in the field of urban planning. She also stated that UN-HABITAT was ready to support Azerbaijan in this process and brought the project document prepared for Azerbaijan to the attention of the head of state.
President Ilham Aliyev stated that Azerbaijan would further expand cooperation with UN-HABITAT and support the activities of the Programme. The head of state noted that the National Urban Forum would be held in Azerbaijan on an annual basis.
In conclusion, Maimunah Mohd Sharif presented the document of the country program on settlement – the strategy of cooperation of the UN Human Settlements Programme with the Republic of Azerbaijan – to the head of state.
--
Follow us on Twitter @AzerNewsAz