18 July 2021 17:14 (UTC+04:00)
1 992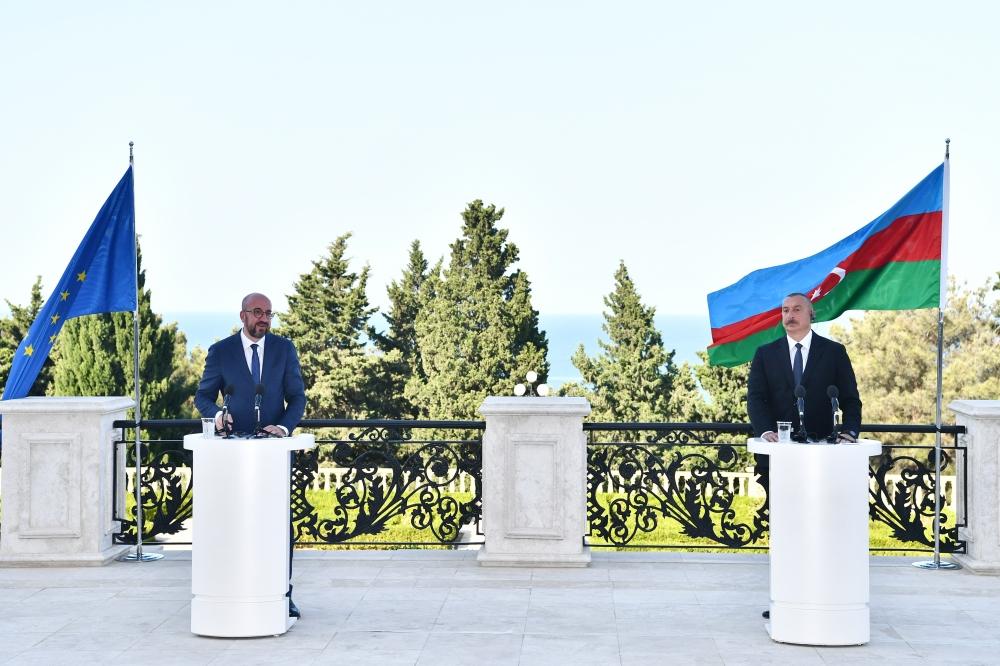 President Ilham Aliyev has said that the EU is Azerbaijan's main trade partner.
Addressing a joint press conference with Pesident of the European Council Charles Michel in Baku on July 18, Aliyev praised trade and bilateral ties with the EU.
"The European Union is our main trading partner. Almost 40 percent of our trade is a trade with the European Union. Last year's trade turnover was almost $9.5 billion. $6.8 billion dollars is Azerbaijani export to EU member states. More than 1,700 companies from member states work in Azerbaijan. This also demonstrates the scope of our economic activity," Aliyev said.
He said that Baku has active bilateral ties with the member states.
"With 9 member states of EU, Azerbaijan signed or adopted documents on strategic partnership. So one-third of EU member states consider Azerbaijan as a strategic partner. I think this is a very big achievement of our government. This also creates additional opportunities for cooperation. Important part on our agenda, of course, is related to energy security."
Speaking about the Southern Gas Corridor project, Aliyev described it as a historical achievement.
"The last day of the last year is a really event of the historical importance. The Trans Adriatic Pipeline which was the last-fourth segment of the Southern Gas Corridor is already in operation. Since January 1 until today, already more than 3 billion cubic meters of natural gas was exported from Azerbaijan to EU member states, particularly to Italy, Greece and Bulgaria. Of course, the volume of natural gas to be exported to European Union market will grow."
Aliyev said that the Southern Gas Corridor is a project of energy security.
"With the EU we, for many years, are chairing the Southern Gas Corridor Advisory Council and under the leadership of EU and Azerbaijan Advisory Council became also important factor of successful implementation of this project. 3,500 km length integrated pipeline system and huge Shah Deniz 2 gas field's development, really is a unique experience of cooperation between countries, companies and international financial institutions. The total investments in the South Gas Corridor project were more than $33 billion. At the same time, for many years already, for 15 years Azerbaijan is a reliable crude oil supplier to European consumers. And now, as a gas supplier our potential, of course, will grow and this will create more opportunities for us as an exporter, for transiters and for consumers, because gas from Azerbaijan is not only gas from the new route but is a gas from the new source. This makes this project really the project of energy security."
Futhermore, Aliyev spoke about opportunities in regional connectivity following the end of the Second Karabakh War.
"After the second Karabakh war there are new opportunities for opening of all communications in the region as it was provided by the trilateral agreement of November 10, last year. So, this issue was broadly discussed today, as well as other issues of post-conflict development in the region, because this created a new situation, this created new realities. Azerbaijan put an end to a long-lasting Armenian occupation of our territories. Azerbaijan itself implemented resolutions of the UN Security Council, demanding unconditional and full withdrawal of Armenian troops from our territories, and Azerbaijan has put an end to war. Therefore, now it is time to think about peace and to turn the page. We are ready for that. Today, with Mr. President we broadly discussed our plans, our initiatives and our approaches to the newly emerged situation. I think that demonstrating good will and very pragmatic approach in a relatively short period of time, we can resolve most of the still remaining issues on the table and lay down the foundation for a broad regional cooperation in the region."
"EU plays, and I am sure will play very important role from this point of view and the visit of Mr. President to the three countries of the South Caucasus demonstrates European involvement, European agenda. It is fully in line with our agenda. Our views coincide with this issue also. Of course, the post-conflict development with respect to connectivity issues, with respect to issues of reconstruction of the liberated territories will be always on our agenda. Mr. President, once again, I would like to express gratitude for your visit and express assurance that our strong partnership and cooperation will successfully continue."
President of Azerbaijan Ilham Aliyev presented a book "Karabakh before and after occupation" to President of the European Council Charles Michel.
--
Follow us on Twitter @AzerNewsAz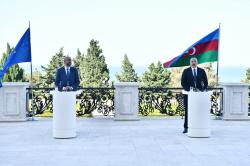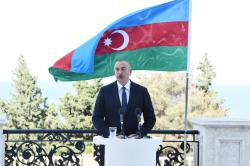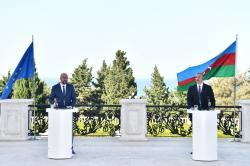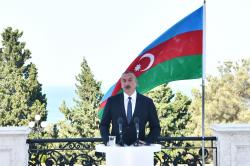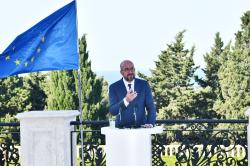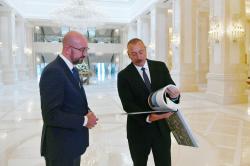 Related News