4 June 2019 15:26 (UTC+04:00)
3 004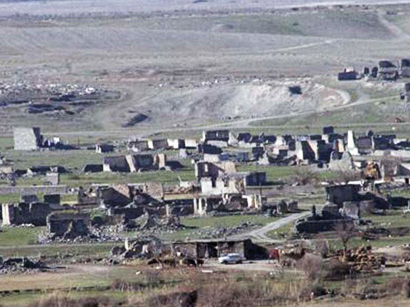 By Abdul Kerimkhanov
Armenians are continuing destroying the material and cultural heritage of Azerbaijanis in the occupied territories of Azerbaijan. The land and underground resources of Azerbaijan are being subjected to barbaric plunder in the occupied region of Karabakh, and are further taken to Armenia. Unfortunately, international organizations are reluctant to stop Armenia's actions, which are deprived of any humanity.
The Azerbaijani Community of Nagorno-Karabakh appealed to Armenians demanding to put an end to the destruction of historical and cultural monuments, as well as religious heritage belonging to the Azerbaijani people in the occupied territory.
In a video clip prepared for the Armenian public in Armenian language the community describes in comparison the state of the Armenian Church in Baku and the state of Azerbaijani historical and cultural monuments in occupied Karabakh and adjacent seven regions.
The Community stressed that while the Armenian church was included in the "National Registry of Historical Monuments in Azerbaijan" list by order of the Azerbaijani government, religious monuments in the occupied Azerbaijani territories are being destroyed by Armenians.
The Community regrets that despite such a humane step of the Azerbaijani state, Armenia is trying to erase any traces of the heritage belonging to the Azerbaijani people, destroying historical monuments, mosques, and cemeteries in the occupied territories in the Nagorno-Karabakh region and adjacent regions.
Armenians even appropriated an Orthodox church built for the Russian military in the 19th century in Shusha, changing its architectural appearance.
The Community reminded that Azerbaijan always respected the material and cultural values and the heritage of other ethnic minorities, including Armenians, with deep respect and care. The traditions of multiculturalism and tolerance, which have existed in Azerbaijan for centuries, have become a way of life of Azerbaijani people.
"We believe to return to our lands soon and restore the destroyed historical, cultural, religious monuments, giving them a new life," the Community concluded.
Baku strengthens the role of the Azerbaijani Community of Nagorno-Karabakh and wants to ensure equal access to negotiations of the Armenian and Azerbaijani communities in the region.
While determining the status of Nagorno-Karabakh, the position of only the Armenians cannot be decisive. The Azerbaijani Community, which as a result of ethnic cleansing was forced to leave their homes, has the legal right to participate in determining the future legal status of Nagorno-Karabakh. It becomes as a vital condition for a comprehensive and fair settlement of the conflict cannot be achieved.
---
Follow us on Twitter @AzerNewsAz
Related News