1 April 2014 12:00 (UTC+04:00)
371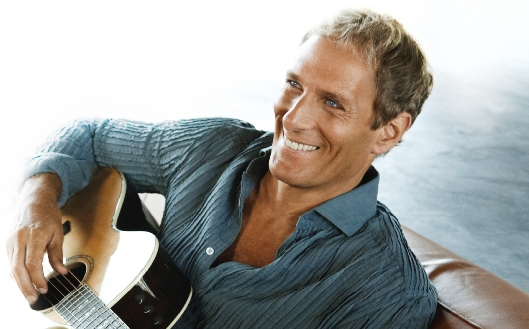 By Nigar Orujova
An American singer-songwriter expressed his enthusiasm for his concert that will be held at the Heydar Aliyev Center on April 19.
"I am really looking forward to performing in Baku for the first time," Michael Bolton told Trend Agency prior to his concert. "From what I understand, the Heydar Aliyev Center is a spectacular venue, an apex of creative and cultural life."
Bolton said he had traveled to just about every corner of the world and seen beautiful architectures and so much natural beauty, but the single most important thing had always been the same - the connection and warmth he felt from people.
"Being a performing artist means it will always be about the people who live where the road takes us and the people who come to enjoy what we love most, the music. I understand that the landscape in Azerbaijan is quite magnificent, from the Caspian Sea's shoreline to the various mountain ranges. I'm curious to learn more about the music traditions there," he said.
Bolton, noted for his distinctive tenor/countertenor vocal style, is best known for his series of soft rock ballads recorded after a stylistic change in the late 1980s.
His repertoire is dominated by love ballads with popular such songs as "Can I Touch You...There?", "How Am I Supposed To Live Without You", "Love is a Wonderful Thing", and "Missing You Now".
"My repertoire is very diverse, from ballads to blues rock, arias, standards, and R&B songs. As for love, I've always been a hopeless romantic," he said.
He originally performed in hard rock and heavy metal genres from the mid-1970s to the mid-1980s, both on his early solo albums and those he recorded as the front man of the band 'Blackjack'.
Bolton's achievements include recording eight top 10 albums and two number one singles on the Billboard charts, as well as winning multiple American Music Awards and Grammy Awards.
Along with a successful singer career, Bolton is also one of the famous composers of the world, having written songs for famous musicians such as Bob Dylan, Lady Gaga, Diane Warren, David Foster, Phil Ramon, Barbra Streisand, John Legend, Jay Z, and the band "Kiss".
He is also the founder of "The Michael Bolton Charities", and participates in the projects of other charity organizations.
"Before I achieved any success in the music industry, my young family and I really struggled financially, and verged on homelessness. So when I achieved success, I started supporting local shelters," he said.
"I discovered that women and children were most often sheltered not from homelessness, but from domestic violence at home. I then focused my initiatives on helping women and children at risk of abuse. Celebrity has allowed me to wield influence in the media and legislation. Making a difference in the quality of a person's life is a reward that truly touches your soul."
Michael Bolton, who has duets with Luciano Pavarotti, Jose Carreras, Placido Domingo, Renee Fleming, and BB King, can also be heard in many famous films and serials.
Related News