First tourism film festival opens in Baku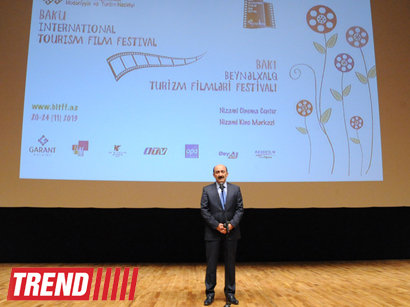 By Nigar Orujova

The first Baku International Tourism Films Festival kicked off at the Nizami Cinema Center on November 20.

The non-profit cultural event, organized by the Culture and Tourism Ministry, aims at promoting films on tourism and endorsing the development of domestic and international tourism, as well as encouraging the movies' authors.

Culture and Tourism Minister Abulfas Garayev spoke of the importance of the festival, noting the country's successes in this field and election to the Executive Board of the World Tourism Organization.

The goal of the festival is to attract the world attention to the rich tourism potential of Azerbaijan, one of the world centers of historical and cultural heritage.

Garayev expressed hope the festival would become traditional.

The festival was opened by the joint Azerbaijani-French film "Return to the Caucasus" starring Gerard Depardieu.

The film is directed by Stephane Bergouhnioux and Jean-Pierre Devillers, illustrated by Mathieu Sapin, with participation of famous Azerbaijani TV presenter Fuad Akhundov and actor Enver Hasanov.

The film reflects the route of the famous French writer Alexander Dumas, who visited Azerbaijan in 1858, having published a book of travel notes "Journey to the Caucasus".

Depardieu is traveling the route of Dumas and, as the famous writer did, discovering wonderful places and meeting with interesting people.

A photo-exhibition featuring the tourism potential of Azerbaijan was also presented to the participants.

Some 78 films from 31 countries have been chosen for the competitive part of the festival, with 14 films by Azerbaijani directors. The screenings will be held at the Nizami cinema center in Baku until November 24.

Movies will be evaluated by an international jury, consisting of local and foreign cinematographers as well as tourism experts.

The holders of the top three places in each category will be awarded money. The best film of the festival will be presented with the Grand Prix and an award of 4,000 euros.

The festival is sponsored by Garant Holding, Nar Mobile and JW Marriott Absheron.