Azerbaijani, Russian, Iranian railways agree to develop North-South corridor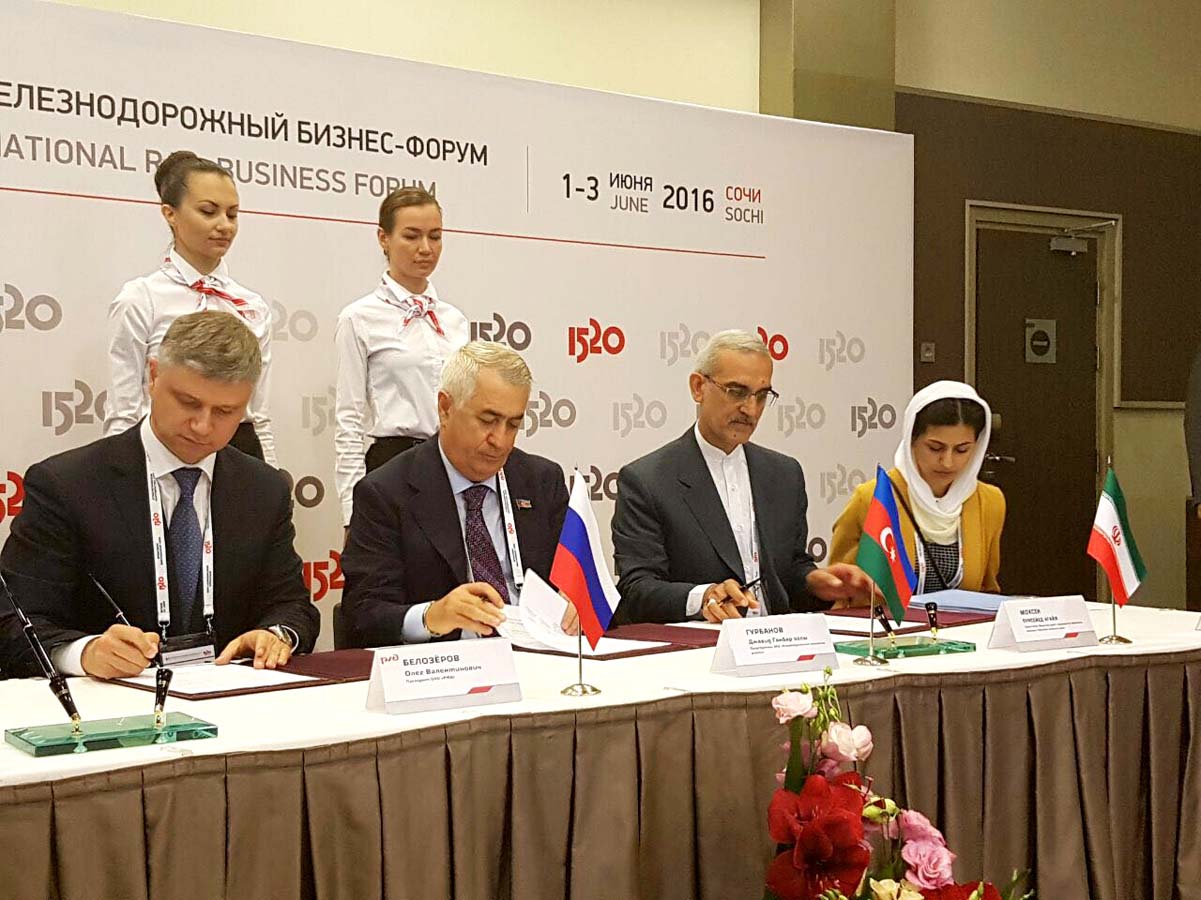 By Amina Nazarli
Railways of Russia, Iran and Azerbaijan agreed on the further development of the North-South international transport corridor.
The trilateral agreement was signed as part of the international business forum "1520 Strategic Partnership" held in Sochi, on June 1-3.
The agreement reflects the provisions on railway tariffs to attract traffic and the further development of the North-South route including the organization of experimental container train Bandar-Abbas-Moscow.
The North-South corridor, from India to Helsinki, with a length of 7,200 kilometers is designed to carry more than 20 million tons per year. It is a multimodal route for transportation of passengers and cargo from Russia's St. Petersburg to the Mumbai port.

It is designed to carry transit cargo from India, Iran and other Persian Gulf countries to the territory of Russia (the Caspian Sea) and further - to Northern and Western Europe.
In March Baku hosted a trilateral meeting of representatives of Russian Railways, Azerbaijani Railways and Islamic Republic of Iran Railways with participation of RZD Logistics, JSC TransContainer and ADY Express.
The sides confirmed the multimodal route India-Iran-Azerbaijan-Russia, which will include transport of containerized cargo on a regular basis.
Currently, the parties are working on a potential cargo database for carrying out test traffic on this route.
The North-South route enjoys several advantages compared to other transport corridors. It is more profitable for each parameter than other alternative routes, such as the Suez Canal-the Mediterranean Sea-Northern Europe and the Turkmenistan-Kazakhstan-Russia-Northern Europe routes.
Economists believe that the North-South project is of strategic importance for the region. It can be profitable for all countries, including Russia, which can get an access to the waters of the Persian and Oman Gulfs via this corridor. Also, this route can help Russia with cargo transportation.
They say that cargoes, which come from China, can be directed to the Northern Europe, and the goods from the Western Europe to Iran. So, it actually combines the North-South and East-West corridors.
In this case, Azerbaijan, with its favorable strategic and geographic location on the intersection of major transport projects linking north with south and east with west, will become a hub, a logistics center of transit cargo transportation.
--
Amina Nazarli is AzerNews' staff journalist, follow her on Twitter: @amina_nazarli

Follow us on Twitter @AzerNewsAz