17 October 2014 11:43 (UTC+04:00)
1 670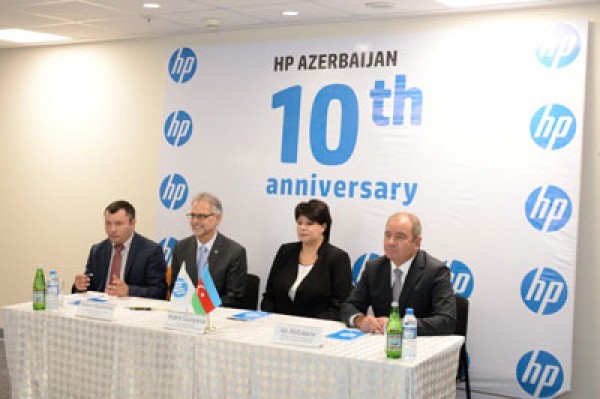 High Tech Park Azerbaijan and HP, one of the largest companies in the world in the field of information technologies, have signed a Memorandum of Understanding on cooperation in the field of information security,.
The document was undersigned by Executive Director of High Tech Park Seymur Aghayev and head of Azerbaijani representation of HP Inara Guliyeva. The ceremony was preceded by the opening of a new office of HP in Baku.
Addressing the opening ceremony, Azerbaijani Minister of Communications and High Technologies Ali Abbasov said the company's cooperation with Azerbaijan is based on many years' experience.
Saying during these years the company has been actively involved in the process of implementing a number of projects in the country, Abbasov emphasized HP and other international companies are manifestation of favorable business environment created for ICT companies in the country.
"Azerbaijan attaches great importance to the development of the technology sector and main activities in this field have been determined. IT companies have always been involved in the implementation of government projects, taking into account the importance of the experience of multinational companies such as HP for Azerbaijan, their participation in the implementation of similar projects will also be provided in the future," he said.
The minister also spoke about the work carried out in the country towards the establishment of industrial parks and the Presidential Decree "On establishment of industrial districts and organization of their activities" to ensure the comprehensive development of economy, as well as dynamic development and diversification of the industry on the basis of high-technologies.
HP Vice President and Managing Director for Central and Eastern Europe Herbert Rastbihler, in turn, noted that over the 10-year period of activity in the country the company has had cooperation with public and private sector in the implementation of national projects.
"Over the past period, HP has developed year after year, and experienced a very important stage of technological development. Today, the company has become a supplier of technologies for corporate customers, small and medium businesses, as well as individual users. The company has successfully cooperated with Azerbaijan for over the past 10 years. HP is currently working with the companies Azerpoct, Azercosmos and High Technologies Park," he said.
Rastbihler also stressed that within the framework of cooperation the company supports Bakutel, Azerbaijan's international telecommunications and information technologies exhibition and at last exhibition the company presented new HP products and services in the field of cyber security.
The company official expressed confidence in the successful continuation of cooperation with Azerbaijan.