BP improving IT skills of residents of Baku settlements [PHOTO]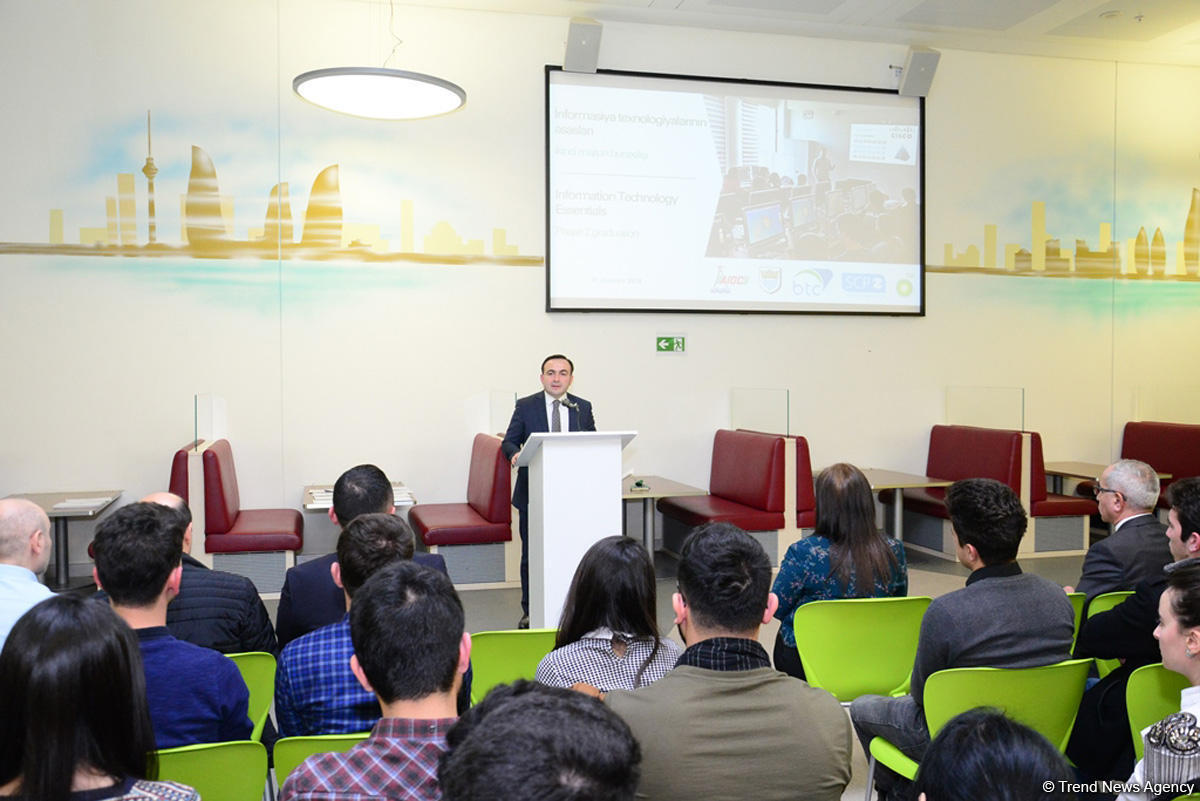 By Trend
BP and its co-venturers in the Azeri-Chirag-Gunashli, Baku-Tbilisi-Ceyhan, Shah Deniz, and South Caucasus Pipeline projects – SOCAR, TPAO, PETRONAS, Chevron, LUKOIL, NICO, Statoil, INPEX, ExxonMobil, SGC, ITOCHU, ONGC, TOTAL, Eni presented IT certificates to 100 community members from the Umid, Sahil, Azimkand, and Sangachal residential areas near Baku on January 31.
The project is part of BP's and its co-venturers' commitment to helping the neighbouring communities enhance their skills and capabilities. It was specifically designed to help community members develop IT skills and capacities that would open-up new employment opportunities for participants and increase their employment competitiveness.
This is in addition to 50 community members who graduated from the BP and co-venturers funded IT Essentials Course a year ago as part of Phase 1 of the same project.
Based on the success of the initial phase, Phase 2 was planned as a wider scale project targeting 100 community members from the Garadagh region – representatives of the Umid, Sahil, Azimkand and Sangachal settlements, and additional 100 people selected from the communities of the Yevlakh, Goranboy, Samukh, Shamkir, Tovuz and Aghstafa regions along BP-operated pipelines.
In addition, Phase 2 included support for 19 most successful graduates from Phase 1 of the CISCO training courses, providing them with further opportunities to acquire advanced IT skills and improve their English language knowledge in order to pass the internationally recognized Cisco Certified Network Associates certification exam upon graduation.
Trainings for the participants representing the Garadagh region were held in Baku while the other group representing the regions along the pipelines attended trainings specifically arranged for them at the Azerbaijan Technological University in Ganja. All trainings were conducted by certified professional trainers from the International Trainings and Project Centre of Baku.
The programme focused on developing necessary knowledge of computer hardware and software to help meet the communities' increasing needs in IT- related jobs. The topics included such essential areas as laptops and portable devices, wireless connectivity, security, safety, environmental issues and communications.
Addressing the graduation event, hosted by BP on behalf of its co-venturers, Bakhtiyar Aslanbayli, BP's Vice President, Communications and External Affairs, Strategy and Region, said: "Throughout the two phases of this project we observed excellent progress of almost all of 250 participants. These people are now equipped with such skills and knowledge that will help them in their career development and overall livelihoods.
"Vocational training and new skills development are among the priority areas of BP's and its co-venturers' social investment activities in Azerbaijan. We believe in this way we help our neighbouring communities become more confident in building their future careers. BP and its co-venturers remain committed to working closely and supporting our neighbouring communities."
Phase 2 started in January 2016 and was completed in December 2017. The total cost of the project for Phases 1 and 2 is around 155,000 manat.
Over the past 25 years BP ant its co-venturers have supported a large number of major social investment projects. These have included educational programmes, building skills and capabilities in local communities, improving access to social infrastructure in communities, supporting local enterprises through provision of access to finance and training, support for cultural legacy and sport, as well as technical assistance to public institutions.
In 2017, BP and its co-venturers spent around $2.4 million in Azerbaijan on social investment projects.
---
Follow us on Twitter @AzerNewsAz