Turkey and Russia strengthen trade relations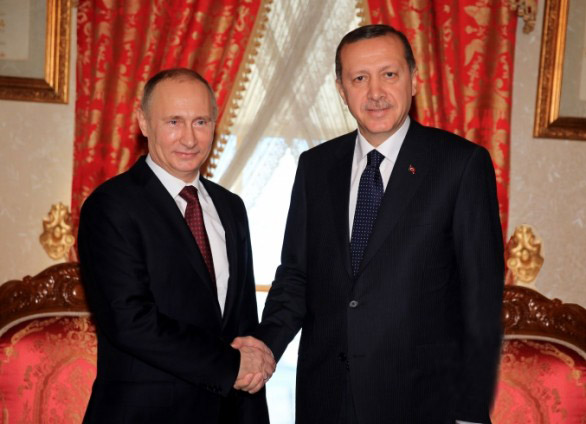 By Laman Sadigova
Turkey's readiness to sign a free trade agreement with Russia could mean that Ankara will significantly increase its footprint in the region and make take its relations with Russia to the next level.
Russia, which has come under sanctions from the EU and the U.S. over its intervention in Ukraine, face real and aggravated economic difficulties which have led to the devaluation of the ruble and prompted Russia' satellite economies -- neighboring countries - to contract sharply.
An agreement of free trade will be a new chapter in the bilateral relations' history of Turkey and Russia. The agreement will include preferential and free trade agreements, a schedule for eliminating trade barriers, an agreement on bilateral trade, an accord for cooperation in banking and investment as well as for the use of domestic currencies in trade between the two countries.
Nowadays, Russia is Turkey's second largest trading partner, while Turkey is Russia's eighth largest foreign trade partner. Despite quite good trade relations in the past, the two countries want to increase their two-way trade volume from $33bn to $100bn by 2020.
Indeed, the Turkey's role for Russia may increase because of the ban on some products that they cannot import from Western countries. For instance, Russia already expresses an immediate interest in the purchase of fish and meat products from Turkey.
Nowadays, Russia has blocked its imports of food from several European and western countries in response to sanctions placed on its economy. Under these circumstances Turkish food makers are seeing an opportunity for boosting their exports. In fact, Turkey can become a connecting link between western countries and the northern giant.
And although Turkey is a NATO member and an EU candidate, it still desire to improve on its relation with Russia - as a good alternative for the economy development and the increase of its influence in the region.
Russia's trade representative in Ankara Taufiq Melikov said that the supply of meat and meat products from Turkey to Russia increased six-fold since August 2014. The process of active strengthening seems to go ahead.
Melikov also discussed seven food products agreements in between August and December 2014.
Russia's decision to block certain food imports from the EU and the U.S. is a potential boon for Turkey just as Islamist insurgents in Iraq choked off trade to key markets for Turkish goods.
Exporting food to Russia could also help make up for the slowly recovering demand from the EU, Turkey's biggest market.
In this context, the debate over Turkey joining the Shanghai Five organization - currently made up of China, Russia, Kazakhstan, Uzbekistan, Kyrgyzstan and Tajikistan - could be back on the agenda. In the past, Erdogan has been contemplating openly about turning his back on the EU in favor of the Shanghai Five. Turkey became one of the organization's official "dialogue partners" in 2012.
---
Follow Laman Sadigova on Twitter: @s_laman93
Follow us on Twitter @AzerNewsAz