Sochi Olympics came to an end with magnificent ceremony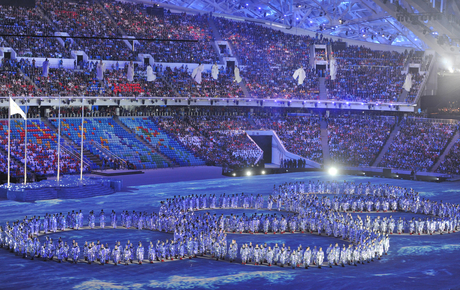 By Nigar Orujova
After two weeks of intense competition and record-breaking achievements, the Sochi 2014 Olympic Games came to an end with a breathtaking closing ceremony at Fisht Olympic Stadium on February 23.
The athletes and fans came together for the last time in the stadium to enjoy the "art-house style" ceremony.
Russian President Vladimir Putin and IOC president Thomas Bach also attended the ceremony.
The last winners of the Olympic Games were also awarded with medals at the event. It was followed by an artistic performance showcasing a projected tribute to renowned artist Marc Chagall.
Pianist Denis Matsuev performed Rachmaninoff's "Piano Concerto no. 2" with 62 pianos surrounded him, and then ballet dancers flocked into the arena.
Russia's literary genius were shown at their writing desks and Shostakovich's Waltz no. 2 heralded of circus performers' entrance into the stadium with an impressive acrobatic display.
The president of the Sochi 2014 Olympic Organizing Committee, Dmitriy Chernyshenko stated the victory of the athletes had inspired people worldwide.
During the ceremony, the flag of the games was taken down and ceremoniously passed by the Sochi mayor to his counterpart from Pyeongchang, which will host the next Winter Games.
Sochi Olympics were grand in terms of both scale and results, where a record 88 nations competed over 98 sets of medals, and breaking the records.
The host country Russia topped the medal table in a 15 days competition, winning 33 medals including 13 gold, 11 silver, and 9 bronze. The second place went to Norway with 26 medals: 11 gold, 5 silver, 10 bronze, and Canada became the third with 25 medals, including 10 gold, 10 silver, 5 bronze.
Azerbaijan was represented at the Games with four athletes, alpine skiers Patrick Brahner, Gaia Bassani Antivari and the figure skating duo.
While Julia Zlobina and Alexei Sitnikov pair ranked the 12th in the free dance competition, Brahner became 53rd in men's giant slalom. Unfortunately, Antivari was injured during training and could not participate in the women's slalom competition.
Sochi Olympics are expected to have a positive effect on the development of winter sports in Azerbaijan, the country, participating in the Winter Olympic Games since 1998.