Turkmenistan, Bulgaria mull cooperation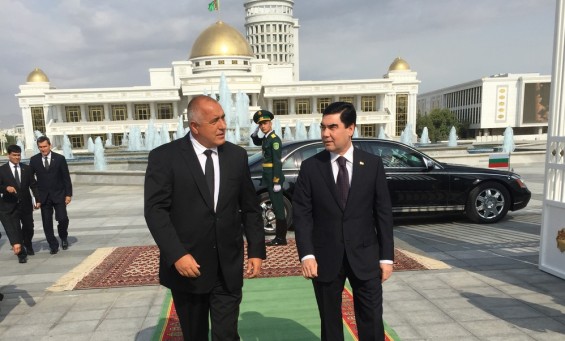 By Aynur Karimova
Prospects for economic cooperation were high on the agenda of talks held between Turkmen President Gurbanguly Berdymukhamedov and Bulgarian Prime Minister Boyko Borissov in Ashgabat on August 25.
The sides referred to the engineering and transport sectors as strategic areas of the cooperation.
Borissov said that the Trans-Caspian gas pipeline, which is designed to deliver natural gas from Turkmenistan to Azerbaijan, is a possible step towards the energy diversification of Turkmenistan.
Berdymukhamedov, in turn, noted that new port infrastructure is being constructed in Turkmenistan's Caspian coast city of Turkmenbashi, and called on the Bulgarian side to intensify bilateral cooperation in the field of marine transportation.
Berdymukhamedov outlined tourism, construction, pharmaceuticals, agriculture, the processing of agricultural products, textiles, the chemical industry, and investment as promising areas of cooperation between Turkmenistan and Bulgaria.
Following the talks, Turkmenistan and Bulgaria signed a package of bilateral documents, in particular an agreement on cooperation in the fields of architecture and construction and a cooperation agreement between the Union of Industrialists and Entrepreneurs of Turkmenistan and the Bulgarian Small and Medium Enterprises Promotion Agency.
The top officials also issued a joint statement.
Bulgaria is considered by Turkmenistan as a strategic partner in international projects to deliver Turkmen energy resources to world markets.
In this regard, the Trans-Caspian pipeline is expected to become a major step towards achieving a real diversification of gas supply resources and routes to Bulgaria.
Turkmenistan, together with its partners, is examining various possibilities for supplying its energy resources to Europe, and the country hopes that Bulgaria as a respected and authoritative member of the European Union will continue to support this process.
The talks held between Berdymukhamedov and Borissov demonstrated the willingness of Turkmenistan and Bulgaria to cooperate in ensuring global energy security and diversification. Their respective positions toward achieving this goal are quite similar.
There are also broad prospects for partnerships in developing east-west transit corridors between Asia and Europe by way of reaching markets in Southern and Eastern Europe, the Caspian, Black, and Mediterranean basins, and the Middle East.
--
Aynur Karimova is AzerNews' staff journalist, follow her on Twitter: @Aynur_Karimova
Follow us on Twitter @AzerNewsAz