26 December 2012 17:16 (UTC+04:00)
1 538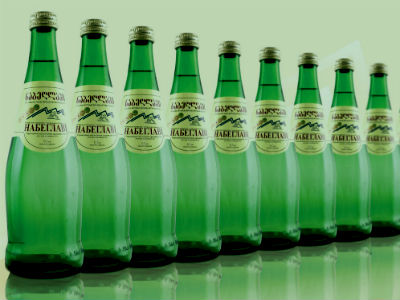 By Sabina Idayatova
Georgian sparkling water company Nabeghlavi has formally asked Russia for a certificate, in a bid to re-enter the neighboring country's market, Trend news agency reported on Wednesday.
However, the CEO of the company, former Agriculture Minister Mikhail Svimonishvili told Kommersant radio station that export of Georgian goods to the Russian market will not be possible this year.
Svimonishvili expressed hope that Russian sanitary service experts will arrive in Georgia in spring, and Nabeghlavi will be granted a relevant certificate.
Svimonishvili said that if the Russian market opens up for Georgian goods, Nabeghlavi will return to Russia, noting that sparkling water of this brand has already been on sale in the country in 2003-2005.
Furthermore, Svimonishvili said, the chief Russian sanitarian has assigned to Nabeghlavi the status of high-quality mineral water and awarded the product a gold medal.
Meanwhile, a meeting between Georgian Agriculture Ministry's representatives and local winemakers will be held soon to discuss issues relating to the export of Georgian wine to Russia, Minister David Kirvalidze said.
"We intend to hold a consultative meeting with winemakers to look through all the procedures that are necessary for the return of Georgian wine to Russia," Kirvalidze said.
On Tuesday, Kirvalidze said at a press conference that Georgia has begun supplying its citrus fruits to Russia by transit through Belarus. He said the first container has already arrived in Russia, and two more trucks loaded with citrus fruit may reach Russia this week.
Russian President Vladimir Putin said on December 20 that Russia will fulfill its obligations within the World Trade Organization on entry of Georgian goods to the Russian market. On the following day, Russia's First Deputy Foreign Minister Andrei Denisov said that access of Georgian agricultural products to the Russian market has been resolved in political terms, and "only technical procedures are left".
Kirvalidze said a meeting of a Georgian delegation with the Russian side will be organized in order to mull the issue of lifting restrictions on Georgian wine.
He confirmed that if necessary, Georgia is ready to receive the experts, whom the Russian chief sanitary doctor Gennady Onishchenko earlier mentioned, to demonstrate how Georgian wine is produced on site.
Georgia and Russia have long been at odds. Tensions between the two neighbors rose in August 2008 when Moscow crushed a Georgian assault to reassert control over Abkhazia and South Ossetia and later recognized the breakaway regions. In response, Tbilisi broke off diplomatic relations with Moscow and announced the two unrecognized republics as occupied territories in September 2008.
Georgia and the vast majority of other countries do not recognize Abkhazian and South Ossetian independence and officially consider them as sovereign territory of the Georgian state.
Related News