Azerbaijan, Turkiye, Georgian defense ministers mull co-op & military training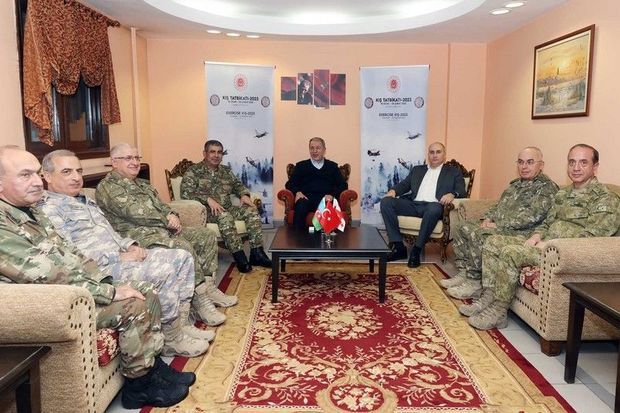 The defense ministers of Azerbaijan, Turkiye, and Georgia met in Sarikamis, Turkiye, Azernews reports per the Turkiye national defense minister.
On February 1, 2023, Azerbaijani Defense Minister Col-Gen Zakir Hasanov visited Turkiye at the invitation of Turkiye Minister of National Defense Hulusi Akar on the Distinguished Visitors Day as part of the "Winter Exercises - 2023" held in Türkiye.
Turkiye Minister of National Defense Hulusi Akar welcomed Zakir Hasanov at the airport. Notably, Georgian Defense Minister Juansher Burchuladze also participated in the Distinguished Visitors Day.
Later, a trilateral meeting with Azerbaijani, Turkiye, and Georgian defense ministers was held. At the meeting, views on military training and cooperation, and regional developments were exchanged.
Ministers Akar, Hasanov, and Burchuladze also observed the Distinguished Observer Day activities of the "Winter Exercise-2023".
The defense ministers of the three countries had previously met in Kayseri, on December 21, within the framework of the Turkiye-Georgia-Azerbaijan defense ministers' meeting.
---
Follow us on Twitter @AzerNewsAz