14 August 2018 14:40 (UTC+04:00)
1 496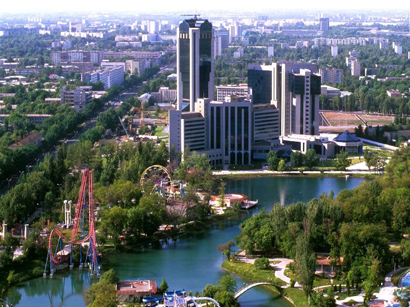 By Trend
Tashkent region of Uzbekistan and the Republic of Tatarstan (Russia) are implementing a number of projects in Uzbekistan and will ensure mutual supply of products, acocrding to the negotiations between the delegation of the Tashkent region of Uzbekistan headed by the Head of the Regional Administration Gulomjon Ibrahimov and the President of Tatarstan Rustam Minnikhanov, the Uzbek media reported.
Minnikhanov noted that Tashkent region is one of the leading regions of Uzbekistan. Tatarstan is interested in the development of comprehensive contacts.
"We are preparing an action plan for the implementation of the cooperation agreement signed in May this year. The document covers all areas: trade and economic, scientific and technical, cultural spheres," Minnikhanov said.
One of the projects stipulated in the "road map" is the creation of a branch of the Tatarstan's Technopolis "Khimgrad" Industrial Park in the region.
"We want to create this institution together with the Tashkent region. There are entrepreneurs who are ready to develop their business on this site. We will send managers, technologies. For its part, the Tashkent region will support us in the issues of provision of the necessary infrastructure," the president of Tatarstan said.
The next promising area of cooperation is the project of the "Eidos-Medicine" LLC company, involving the establishment in the Tashkent region of the assembly production of medical robots-simulators for the needs of Uzbekistan.
In addition, it is planned to establish traditional trade relations: to organize wholesale deliveries of products of the Tashkent region to Tatarstan and promote Tatarstan goods to the market of Uzbekistan. A special agency will be established to ensure this process, Minnikhanov said.
In turn, Ibrahimov stressed that the Republic of Tatarstan and Tashkent region has managed to build a meaningful dialogue between them in the last year and a half, and today they are working on the implementation of joint projects.
The head of the Tashkent region also said that during his visit to Kazan, he took part in the 9th international specialized exhibition of equipment, materials and technologies for aviation, aircraft construction and space entitled as "Aerospace technologies, modern materials and equipment".
"It was the first time I visited an exhibition of this format. I really enjoyed it. The most important thing is that we saw young guys from Tatarstan developing new technologies that are not inferior to foreign analogues at all," Ibrahimov added.
---
Follow us on Twitter @AzerNewsAz
Related News