19 April 2013 15:21 (UTC+04:00)
1 651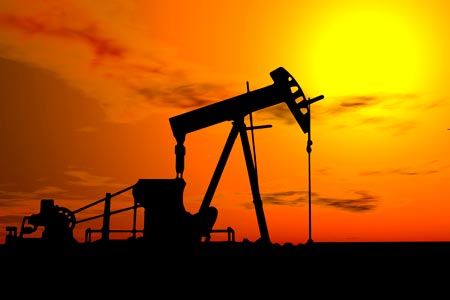 By Sara Rajabova
Iran has discovered a new hydrocarbon layer in southern part of the country which contains huge amounts of light crude oil, the Fars News Agency quoted National Iranian Oil Company official Hormoz Qalavand as saying.
Qalavand informed that the preliminary studies show that 26 million cubic feet of gas can be extracted per day from oil wells in the region.
The crude oil has the API gravity degree of 56, he noted.
Some 1.891 billion barrels of oil and 388 billion cubic feet of natural gas were discovered in the past Iranian calendar year, which ended on March 20, he said.
On March 3, oil official Mahmoud Mohaddes announced that a large oilfield, which holds huge amounts of high quality crude, has been discovered in Khuzestan province.
Iran's recoverable oil and natural gas reserves stand at 154.8 billion barrels and 33.1 trillion cubic meters, respectively.
The country's oil and natural gas reserves will last up to 80 years and 150 years respectively, if the current production and export levels remain steady.
Iran has announced that it will implement 11 plans by the Iranian calendar month of Mordad 1392 (July 22-August 22, 2013) with the goal of boosting oil production by 175,000 barrels per day.
Oil Minister Rostam Qasemi has recently said that the country's oil output is projected to increase by 1.5 million barrels per day by 2016.
Besides, he said on Thursday that Iran has significantly developed its capacity to ship oil overseas despite illegal U.S.-led sanctions.
"Now are able to transport oil even more than we could transport before the sanction imposed," Qasemi said.
"We have no problem in this regard. We have other customers and, in fact, it's not possible to ignore us in the global market. If Europeans do not purchase our oil, we have also imposed sanctions on them. We have other customers today and more than 60 countries today, in fact, are purchasing our petrochemical and oil products and derivatives," he added.
In November 2012, Iranian Offshore Oil Company Managing Director Mahmoud Zirakchianzadeh said that Iran's National Development Fund (NDF) has allocated $1.5 billion for developing the country's oilfields in the Persian Gulf.
Also, on Friday, Zirakchianzadeh said the country's oil production would increase this year as a new oil field would come on-stream, Iranian Shana news agency reported.
He said Reshadat Oil Field will produce 65,000 b/d, noting it would be the biggest oil field development project this year.
The official said 28 wells have been drilled for water injection into this field. He said the water injection is for enhanced recovery from the field.
Regarding associated gas gathering in this oil field, Zirakchianzadeh said a 55-kilometer pipeline would gather flare gas from this field to be delivered for processing.
Referring to the construction of three jackets for the development of Reshadat, he said there are two residential and one production platforms to be installed.
Reshadat Oil Field is an offshore field in the Persian Gulf. Production from this field started in 1968.
According to an Iranian law, 37.5 percent of oil revenue is deposited into the NDF and is then channeled into the development of oil and gas fields and 62.5 percent of oil revenue is allocated for national budget expenditures.
Iran has the world's fourth-largest reserves of recoverable oil, after Venezuela, Saudi Arabia, and Canada.
With 34 trillion cubic meters of natural gas reserves, Iran has the world's second-largest natural gas reserves after Russia.
Related News