12 October 2018 13:20 (UTC+04:00)
2 406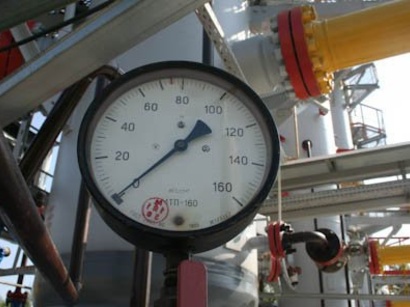 By Trend
Azerbaijan will deliver one-third of Bulgaria's gas demand, said Azerbaijan's ambassador to Bulgaria Nargiz Gurbanova during the John Batchelor Radio Show.
"Azerbaijan and Bulgaria are strategic partners. In fact, Azerbaijan is Bulgaria's biggest partner in the Caucasus. Three years ago, in 2015 an important document was signed. The Declaration of Strategic Partnership elevated the level of friendly and neighborly relations between our countries to the level of strategic partnership," she said.
Gurbanova noted that this partnership envisages closer interaction on a multitude of areas of common interest, energy being one of them and I think, for the time being, the most important one.
"In fact, in 2013 an agreement was signed on the delivery of the gas resources, of energy resources from Azerbaijan to Bulgaria and effective 2020. So, right now, we are working closely with the Bulgarian partners and we are very much hopeful and we are looking forward to Bulgaria constructing a key element of this delivery that is the Interconnector Greece-Bulgaria," said the ambassador.
She pointed out that it is envisaged that this project to be fully operational by the end of next year – early 2020 and will be able to supply 1 billion cubic meters of gas to Bulgaria.
"This is a very serious amount given the fact that Bulgaria's annual energy demand varies between 2.7 to 3 billion cubic meters. It means that Azerbaijan basically will be delivering 1/3 of Bulgaria's gas demand," said Gurbanova.
The diplomat noted that most importantly, recently, Azerbaijan's state oil company SOCAR has expressed interest in participating in gasification of Bulgaria.
"So far, only 5 percent of Bulgaria has been gasified. So, SOCAR is currently looking for the possibilities of the feasibility study to check what the possibilities are for Azerbaijan's participation in this project. And in fact, what is even more important, I would say, is Bulgaria's role as a transit, not only as an end-user, the consumer of Azerbaijani gas, but as an important transit hub and point on the Balkan Peninsular," she said.
IGB is a gas pipeline, which will allow Bulgaria to receive Azerbaijani gas, in particular, the gas produced from Azerbaijan's Shah Deniz 2 gas and condensate field. IGB is expected to be connected to TAP via which gas from the Shah Deniz field will be delivered to the European markets.
The initial capacity of IGB will be 3 billion cubic meters of gas.
---
Follow us on Twitter @AzerNewsAz
Related News