6 April 2016 12:36 (UTC+04:00)
1 172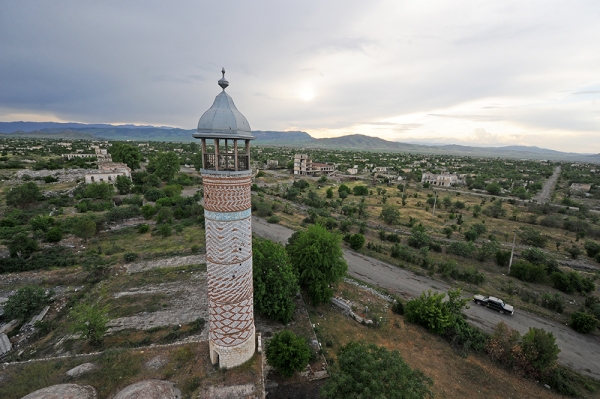 The Board of Directors of the Organization of Islamic Cooperation (OIC) Youth Forum held an extraordinary meeting on the recent provocation of Armenian armed forces in Nagorno-Karabakh region of Azerbaijan, as they adopted Declaration.
"OIC Youth Forum strongly condemns Armenia's provocative, aggressive actions against Azerbaijan in Nagorno-Karabakh region, to keep the fire of settlements and military positions and regards it as an act violating peace and increasing tension in the region", the statement says.
The reply actions of Azerbaijan Republic aimed at protecting the security of its territory and population rated commendable. The Forum also highly appreciates the efforts towards releasing strategic points occupied by Armenian forces and used as a springboard to the Azerbaijani positions, as well as supports the position and action of the Azerbaijani President in direction of protecting the territorial integrity and considers the natural right of Azerbaijan to liberate the occupied territories.
Considering the stated position of Azerbaijan to resolve the Nagorno-Karabakh conflict peacefully, the Forum calls international organizations to support this position, to achieve the implementation of international resolutions and withdrawal of Armenian troops from Azerbaijan's occupied lands.
The OIC Youth Forum expressed gratitude to Pakistan, Turkey and other OIC member countries for their support to Azerbaijan.
The Forum notes that these issues also will be discussed at the events to be held within the framework of Organization of Islamic Cooperation Summit. Representatives of the OIC member countries will take steps in the direction of its position.
For over two decades, Azerbaijan and Armenia have been locked in conflict which emerged over Armenia's territorial claims against its South Caucasus neighbor. Since a war in the early 1990s, Armenian armed forces have occupied 20 percent of Azerbaijan's territory, including Nagorno-Karabakh and seven surrounding regions.
Over the entire period of its existence, the OSCE Minsk Group, which acted as the only mediator in resolution of the conflict, failed to move forward in resolving the long lasting conflict, although the interested parties had pinned great hopes on it.
The situation on the frontline aggravated on April 2 after the Armenian military units in the occupied lands started shelling Azerbaijan's positions.
To protect civilian population, the Azerbaijani Armed Forces launched counter attacks and as a result, the Azerbaijani troops retook hills around the village of Talish, as well as Seysulan settlement, and also took over Lele Tepe hill located in the direction of Fizuli region.
The hostilities renewed in the occupied Nagorno-Karabakh region of Azerbaijan on April 4, as the Armenian side continued to shell the Azerbaijani positions although the Azerbaijani side announced unilateral ceasefire on April 3.
The Azerbaijani Army destroyed about 370 enemy soldiers since the start of the hostilities, according to the defense ministry.
Azerbaijan and Armenia have agreed to cease operations on the line of contact starting from 12.00, April 5.
The Azerbaijani armed units are now carrying out fortification work in the retaken areas, Defense Ministry reported.
---
Follow us on Twitter @AzerNewsAz
Related News