11 December 2015 17:46 (UTC+04:00)
2 672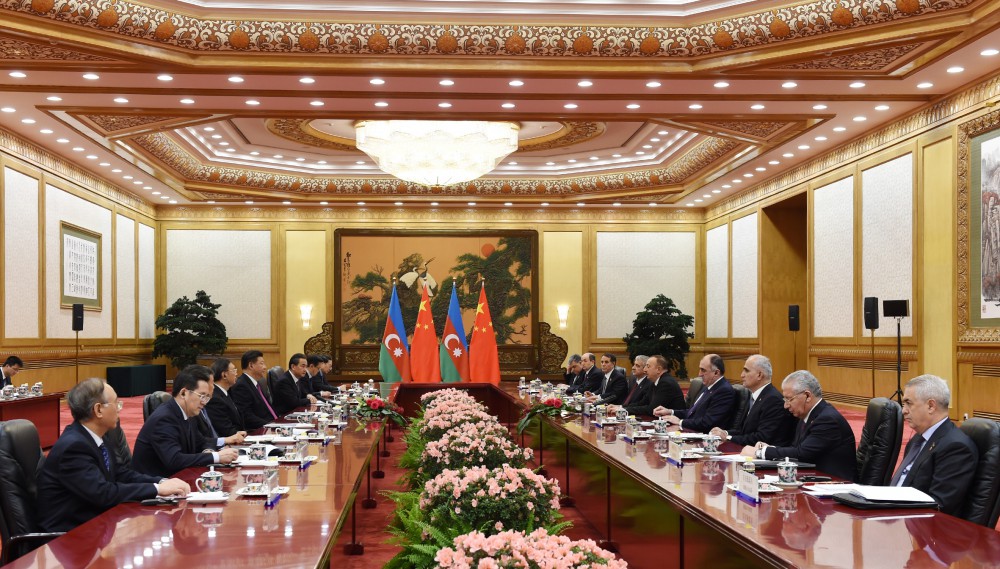 By Aynur Karimova
Azerbaijan and China have opened a new page in their relations. The most developed nation of the South Caucasus stated its will to become an important transit participant of the historic Silk Road, hereby reiterating its support to China's initiative to revive the route.
President Ilham Aliyev, who was on a state visit to China on December 8 to 11, expressed his intention to develop the political dialogue with China, and to continue strengthening economic ties with the world's largest economy.
"We have a strong relationship. We cooperate in many spheres as friends and partners," President Aliyev said at a meeting with Chinese President Xi Jinping in an expanded format. "We in Azerbaijan very much appreciate your initiative to create the Silk Road Economic Belt."
Relations between Azerbaijan and China have a long history. Thanks to its advantageous geographical situation, Azerbaijan is a natural crossing point on the way from East to West and North to South and is one of the main trade and transport centers running from China to Europe and vice-versa via the Silk Road economic belt.
The grand multibillion-dollar Silk Road project was initiated by President Xi Jinping in 2013 with an aim to connect China with Europe and strengthen cooperation between Asia and Africa.
Centuries ago, it would take months for caravans of camels and horses from China to reach Europe across the sun-scorched steppes and deserts of Central Asia to exchange silk for medicines, perfumes and precious stones.
Now, thanks to the land route running from China to Europe through the Central Asian region, it takes just 15 days for trains carrying containers with electronic goods, construction materials and other cargo to cover the 10,800-kilometer route from Chongqing in southwest China to Duisburg in Germany's industrial Ruhr region.
The revival of this historic route could be beneficial both for Azerbaijan and China. Today, these two countries, which established the diplomatic relations in 1992, strongly support each other on issues related to the vital interests and major concerns.
"Our mutual political trust always strengthens and multifaceted cooperation continuously deepens. There is a solid foundation and broad prospects for the relations of friendship and cooperation between our two countries," Xi Jinping noted.
Azerbaijan enjoys good potential to play an important role as a transit corridor between China and Europe, and the route passing through the country could be the shortest way between China and Europe.
Given this factor, Azerbaijan, which aims to become the transit hub in the region, carries out huge work on the establishment of infrastructure, and improvement of the transport system.
In November, the largest transport and logistics operators of Azerbaijan, Turkey, Kazakhstan and Georgia have agreed on the establishment of an organization to transport goods from China to Europe.
As part of the visit to China, President Aliyev was conferred a diploma of Honorary Professor of History by Renmin University of China. He completed his state visit to China on December 11.
China is a huge opportunity and a priority market for Azerbaijan. The trade turnover between the two countries amounted to $288.4 million in the first six months of 2015, some $259.3 million of which were accounted for Azerbaijan's import operations.
--
Aynur Karimova is AzerNews' staff journalist, follow her on Twitter: @Aynur_Karimova
Follow us on Twitter @AzerNewsAz
Related News