3 November 2014 15:42 (UTC+04:00)
1 746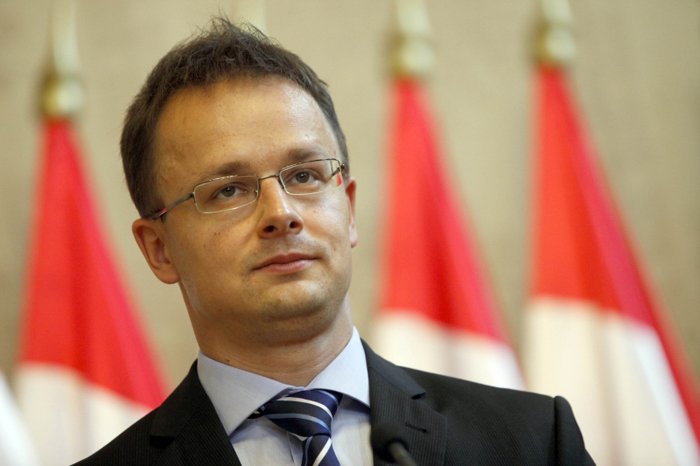 By Nigar Orujova
Cooperation between Azerbaijan and Hungary in political and economic spheres was mulled as Azerbaijan's President Ilham Aliyev received a Hungarian delegation led by Foreign Affairs and Trade Minister Peter Szijjarto on November 3.
Szijjarto arrived in Azerbaijan for an official two-day visit on November 3.
The parties expressed satisfaction with the high level of the bilateral relations between Azerbaijan and Hungary, noting that these ties have dynamically developed in recent times.
The sides stressed that the countries enjoy good potential for cooperation. They further discussed the expansion of the bilateral relations in the fields of tourism, youth affairs, information and communication technologies, pharmaceutics, air communication, and other areas.
The issues related to Azerbaijan-EU cooperation and settlement of the Armenian-Azerbaijani Nagorno-Karabakh conflict were also mulled during the meeting.
During his Baku visit, Szijjarto also met with his Azerbaijani counterpart Elmar Mammadyarov.
Azerbaijan and Hungary established good bilateral relations, Mammadyarov told reporters after the meeting.
He said that the talks were fruitful and the sides discussed a number of issues of bilateral and international cooperation. "Our countries have good relations, which we have agreed to develop," he said.
Mammadyarov further said Baku-Budapest direct flights contribute to the development of the bilateral relations between Azerbaijan and Hungary.
Szijjarto, in turn, said Azerbaijan and Hungary will sign an agreement on strategic partnership.
"It is expected to sign this agreement during the upcoming visit of President Ilham Aliyev to Hungary," he said. "We have high expectations from the Azerbaijani president's visit."
Azerbaijan is the strategic partner of Hungary and the economic relations between the two countries develop rapidly, the Hungarian minister said, adding that the trade turnover between the two countries have increased by 17 percent.
Szijjarto emphasized that Hungary also attaches great importance to cooperation with Azerbaijan within the EU Eastern Partnership program.
Hungary recognized Azerbaijan's independence in 1991, and diplomatic relations between the two countries were established in April 1992.
The cooperation in industry, energy, transportation, agriculture, communications and information technology, pharmaceuticals, environment, culture, tourism and other areas are carried out successfully, and trade relations develop between Azerbaijan and Hungary. In 2013, the trade turnover between the two countries increased by nearly 40 percent up to 3.3 million.
Related News