8 October 2014 18:28 (UTC+04:00)
1 661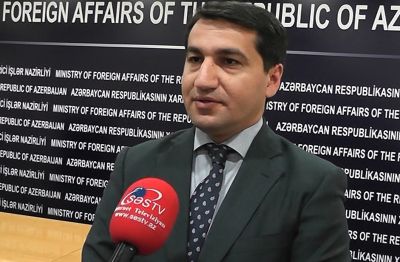 By Sara Rajabova
Baku has strongly condemned the visit of Mayor of the French town of Bourg-les-Valence, Marlene Mourier to Azerbaijan's occupied territories.
Azerbaijani Foreign Ministry Spokesman Hikmet Hajiyev told Trend news agency that Mourier's visit to the occupied Azerbaijani territories and signing of a declaration on twinning of the city with Azerbaijan's occupied Shusha town are illegal.
Hajiyev made the remarks while commenting on Armenian media outlets, which reported that Artsvik Sargsyan, illegal Mayor of Shusha, which is under the Armenian occupation over the past two decades, and Marlene Mourier, who visited Azerbaijan's occupied Nagorno-Karabakh region, signed a declaration of friendship between the two cities on October 8.
Hajiyev said the signing of any document with the illegal breakaway regime by the French mayor is also contrary to France's legislation and mediatory mission of this country in the OSCE Minsk Group.
He assessed such activities on the eve of the Paris meeting of the Armenian and Azerbaijani presidents as a provocation under the influence of Armenia and the Armenian lobby.
Azerbaijani President Ilham Aliyev and Armenian President Serzh Sargsyan are expected to meet in late October on the initiative of French President Francois Hollande.
Hajiyev said Armenia remains faithful to its aggressive policy by trying to harm the settlement process of the conflict by such provocative actions.
Hajiyev further noted that the mentioned visit and the signed documents show disrespect to the refugees and displaced persons who have been expelled from their homelands as a result of the Armenian aggression.
He said the mayor, who encourages separatism, ethnic cleansing and crimes against humanity by his contacts with the separatist Nagorno-Karabakh regime, should be aware of his responsibility to his constituents, the residents of the town of Bourg-les-Valence.
Unauthorized visits to Nagorno-Karabakh and other regions of Azerbaijan occupied by Armenia are considered illegal, and the individuals who pay such visits are included in Azerbaijani Foreign Ministry's "black list".
Azerbaijan's Foreign Ministry in 2013 released a list of 335 people declared 'persona non grata' over their illegal visits to the Armenian-occupied territories. Some of these people were removed from the list after appealing to the Azerbaijani government.
Azerbaijan has repeatedly warned foreign officials and diplomats of unauthorized visits to its territories that are occupied by Armenia, calling them contradictory to international laws.
Baku has stated that such visits, paid without prior notification to the relevant authorities of Azerbaijan, are illegal and damage the settlement process of the Nagorno-Karabakh conflict.
Armenia occupied over 20 percent of Azerbaijan's internationally recognized territory, including Nagorno-Karabakh and seven adjacent regions, after laying territorial claims against its South Caucasus neighbor that caused a brutal war in the early 1990s. Long-standing efforts by U.S., Russian and French mediators have been largely fruitless so far.
As a result of the military aggression of Armenia, over 20,000 Azerbaijanis were killed, 4,866 are reported missing and almost 100,000 were injured, and 50,000 were disabled.
Related News