F1 Grand Prix Baku layout unveiled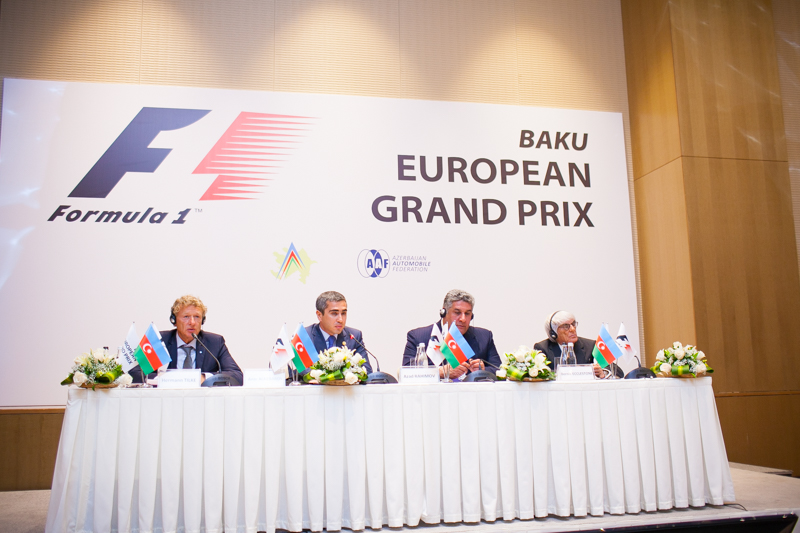 By Nigar Orujova
Formula One CEO Bernie Ecclestone and Azerbaijan's Youth and Sport Minister Azad Rahimov has unveiled the layout of the exciting new Baku European Grand Prix street circuit in Baku on October 7.
F1 entered into 9-years contract with Baku. This comes as similar contracts are concluded for 7-years.
The event presented the layout of the street circuit that will see Formula One cars racing through the streets of Baku on F1's newest track. The layout was designed by Hermann Tilke.
"Azerbaijan is the latest addition to the Formula One calendar and I am pleased to see they have designed an innovative new street circuit that will definitely help create a world class event in 2016," Ecclestone said at the event.
Regarding the decision to choose Baku as a host city of the event, Ecclestone said they have been looking for a beautiful city like Monte Carlo. That is why Baku was picked up.
For his turn, Rahimov said this is a very exciting milestone for everybody involved in the Baku European Grand Prix.
"We have been working very closely on the circuit layout with Hermann Tilke and his team since early 2013. We briefed Tilke Engineering simply - create a circuit that is unique, one that will help the Grand Prix in Baku quickly establish itself as one of the most exciting and thrilling venues on the F1 calendar, and one that the fans and teams alike are excited about.
"Most importantly, we wanted a track that would showcase the best of Baku, our capital city, and I am delighted that the circuit the F1 teams will race on in 2016 has achieved exactly that aim," he said.
"Now the next phase of the hard work has begun and we are all excited about seeing the circuit evolve over the coming months. We know there will be challenges, but with the support of Ecclestone, Tilke Engineering and everyone involved in the project will help create F1's newest Grand Prix, we know we will hold a spectacular event in 2016," the minister said.
The F1 Grand Prix will once again show that Azerbaijan is a perfect venue for the planet's highest profile sports and entertainment events, he added.
CEO Tilke Engineering Hermann Tilke said he is absolutely thrilled up by the Baku European Grand Prix project.
"We have created a challenging street circuit, in terms of engineering and design, and one that thrives on Baku's very attractive urban atmosphere and its great combination of history and 21st century style. The historic city centre, the beautiful seaside promenade and the impressive government house all are combined in a way to provide the perfect backdrop for a spectacular new track," he said.
Tilke said, street circuits present a number of challenges, in terms of circuit design, but the company has been able to incorporate some unique features that will provide the teams and fans with fascinating racing.
"There will be an extremely narrow uphill section at the old town wall that will reward pinpoint accuracy and courage, and we have an acceleration section of almost 2.2kms along the promenade which will see the cars running flat out at very high top speeds - something that will create an incredible spectacle for the race fans on track and the viewers at home," he stressed.
Executive Director of the Heydar Aliyev Foundation and President of Azerbaijan Automobile Federation, Anar Alakbarov also addressed the event.
"Formula One, the world's fastest motorsport championship is already very popular in Azerbaijan as a spectator sport. We are deeply honoured by the privilege awarded to us by the Formula One family in welcoming us to their party and enabling us to host the Baku European Grand Prix in 2016," he said.
Alakbarov expressed confident that hosting this Grand Prix will act as a catalyst for the sport of Formula One in Azerbaijan.
"I think that youngsters throughout the city will be impressed by this spectacular event taking place on their doorstep," he added.
The length of the route in Baku will be 6 km with 8 turns to right and 12 to left. The speed on the track will reach 340 km/h.
The track will start and finish near Government House and covers all the landmarks of the capital city, medieval Old City, modern iconic skyline and spectacular views across the Caspian Sea.
Baku has deep experiences in hosting international motor racing and has been hosting racing series for the past two years. This year, Baku World Challenge will take place on November 1-2.
During his Baku visit, Formula One CEO was also received by President Ilham Aliyev. The meeting highlighted importance of attention paid to the development of sports in Azerbaijan at the state level.
Moreover, it was emphasized that Azerbaijan has a good experience in holding influential international events. The sides expressed confidence that the forthcoming competition will also be organized at a high level.
Formula 1, the world's most prestigious motor racing competition, is also the world's most popular annual sporting series. In 2013, it was watched by over 450 million unique television viewers from 185 territories.
This year, FIA Formula One World Championships runs from March to November and covers 19 races in 19 countries across five continents.