Second Azerbaijani-French Forum of Universities kicked off in Baku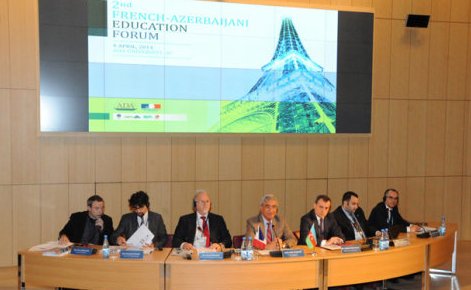 By Nigar Orujova
The second Azerbaijani-French Forum of Universities kicked off at ADA University in Baku on April 4.
The forum was held in cooperation with the French Embassy in Azerbaijan and Campus France. During the forum, the participants will discusse the priorities of educational systems in Azerbaijan and France, and ways of improving cooperation between the two countries' universities.
The event was attended by rector of ADA University Hafiz Pashayev, Azerbaijani Deputy Minister of Education Jeyhun Bayramov, French Ambassador in Baku Pascal Meunier, Director General of Campus France Antoine Grassin, as well as representatives of French universities.
Opening the ceremony, Pashayev said, a memorandum of understanding will be signed between ADA and one of the French universities. Signing of a memorandum with the French Institute of Management IESEG is also expected.
The two-day forum is attended by eleven representatives of French and Azerbaijani universities.
Pashayev praised the development of education in Azerbaijan and cooperation of local universities with prestigious foreign universities.
He also added that ADA is cooperating with universities in many countries and this cooperation is gradually expanding.
Jeyhun Bayramov said education plays an important role in the development of a strong economy, because only highly educated people can contribute to the important reforms already underway in the country.
"This forum will expand cooperation in education between the two countries," he added.
Bayramov said to date 2,612 students were sent abroad within the state program on education of Azerbaijani youth abroad in 2007-2015. Graduates of this program successfully continue their activities in the private and public sectors.
Addressing the event, Pascal Meunier said learning foreign languages ​​is highly important for the youth.
"The Azerbaijani youth are studying in France as well and their condition would get better in future," he said.
The first Azerbaijani-French Forum of Universities was held at ADA University last June. During the forum, an agreement on cooperation between ADA University and Lille Institute of Political Studies was signed.