28 October 2013 17:43 (UTC+04:00)
1 449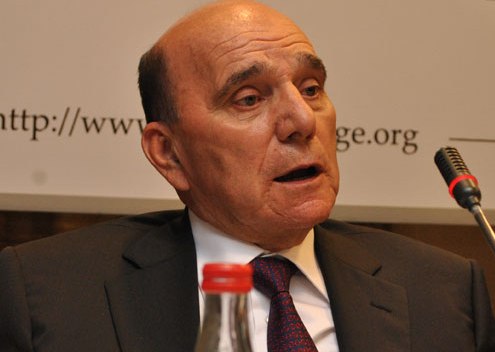 By Aynur Jafarova
A clause of the resolution on European Neighborhood Policy dated October 23, which claims that the presidential elections held in Azerbaijan on October 9 "did not meet OSCE standards", is nothing but mistrust and disrespect of the European Parliament for its own election observation mission, Vice President of Euronest Parliamentary Assembly (PA) and head of the Azerbaijani delegation in the organization, Elkhan Suleymanov, said in his letter to European Parliament President Martin Schulz.
Suleymanov wrote that in fact the adoption of this resolution questions the seriousness of this organization.
The European Parliament thus stepped on the dangerous path of turning into a body which fulfills certain orders, according to Suleymanov.
"I consider Clause 32 of the Resolution dated October 23 passed by the organization you head as political aggression against Azerbaijan," Suleymanov said. "Your efforts at presenting Azerbaijan as an authoritarian country target forming a negative image of the country in the international arena. These steps also serve to the continued occupation by Armenia of the Azerbaijani lands."
According to Suleymanov, the European Parliament is failing to impose sanctions on Armenia, which has occupied part of Azerbaijani territory for more than 20 years.
"Presidential elections held in Armenia, which is an invading country, were evaluated as democratic by your official observation mission consisting of five people and you supported this evaluation," he said. "But though the elections held in Azerbaijan have been positively assessed by the seven-people-strong mission of the European Parliament covering all political factions excluding the "Green" one, having displayed intolerance and lack of impartiality, you passed a resolution sullying the election results."
Suleymanov called on the organization to "cease political encroachment against Azerbaijan".
Earlier Suleymanov appealed to international organizations that the Azerbaijani delegation will suspend its activity in the Euronest PA, a parliamentary forum to promote political association and further economic integration between the European Union and the Eastern European partners. The appeal was sent to Martin Schulz, OSCE Chairperson-in-Office Leonid Kozhara, PACE President Jean-Claude Mignon, OSCE Parliamentary Assembly President Ranko Krivokapic, as well as all members of the European Parliament.
The Foreign Ministry's statement issued on the October 9 election reads that long-term and short-term election observation was conducted by more than 53,000 observers, including 1,300 international observers, invited by the government and parliament of Azerbaijan, who represented 100 countries and 50 international and non-governmental organizations.
Related News