Top Azerbaijani official: Arms purchased with funds from sale of drugs grown in occupied land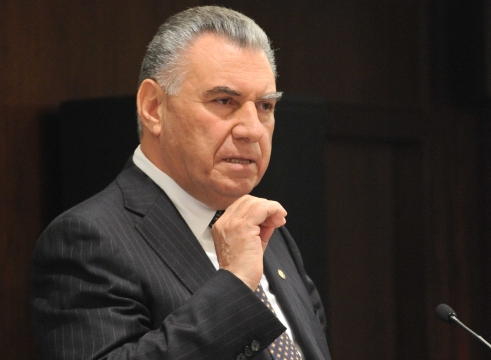 By Sara Rajabova
Over 20 years a large amount of narcotics have been cultivated in the territory of the Armenian-occupied Nagorno-Karabakh region of Azerbaijan and weapons and ammunition are purchased with funds obtained from the sale of the drugs, Azerbaijani Deputy Prime Minister Ali Hasanov told journalists on June 13.
According to Hasanov, who chairs the State Commission on the Fight against Drug Addiction and Illicit Drug Trafficking, major terror groups are trained in the occupied territories and those groups are used in numerous countries.
"Major terrorist centers have been set up in Nagorno-Karabakh mainly with the funds obtained from these very narcotics; mass trainings are conducted for them, and terror groups and terrorists are sent to all conflict zones of the world from there," Hasanov said.
Hasanov stressed that these facts have been proven, and though the Azerbaijani government and President have repeatedly raised this issue wherever appropriate, no reaction or action to counter this followed.
"We sought adding the drug transportation route crossing Nagorno-Karabakh to the UN report, but this wasn't done. And this once again shows that the drug mafia is supported in Nagorno-Karabakh the same way it is supported in many regions of the world," Hasanov said.
Commenting on the cultivation of narcotic plants in the occupied territories of Azerbaijan, US Ambassador to Azerbaijan Richard Morningstar said that the United States opposes the cultivation, sale and transit of drugs anywhere in the world.
The Azerbaijani Ministry of National Security recently exposed 12 people involved in smuggling drugs from Iran, and impounded about 40.5 kilograms of narcotic substances from them. It was ascertained that some drugs withdrawn from the circulation had been cultivated and harvested in the Azerbaijani territories occupied by Armenian armed forces. Then these drugs were delivered to Iran and from there to neighboring Azerbaijan.
Azerbaijani officials and representatives of international organizations have repeatedly made well-founded statements about the use of the occupied territories for drug production.
Given the urgency of the problem of controlling illicit trafficking, intensive work is underway in Azerbaijan to establish legal basis for combating such crimes.
Azerbaijan has joined the 1961, 1971 and 1988 UN conventions on narcotic drugs, psychotropic substances and the fight against illegal circulation of precursors, and concluded bilateral and multilateral agreements and memoranda with a number of countries on combating drugs.
Besides the three UN conventions, Azerbaijan is party to the Partial Agreement establishing the Pompidou Group of the Council of Europe on cooperation in combating drug abuse and trafficking in drugs.
Over 20 percent of Azerbaijan's internationally recognized territory, including Nagorno-Karabakh and seven adjacent regions, has been occupied by Armenian forces since a lengthy war between the two South Caucasus countries in the early 1990s. The UN Security Council has passed four resolutions calling for an Armenian pullout, but they have not been enforced to date.