14 March 2013 11:57 (UTC+04:00)
975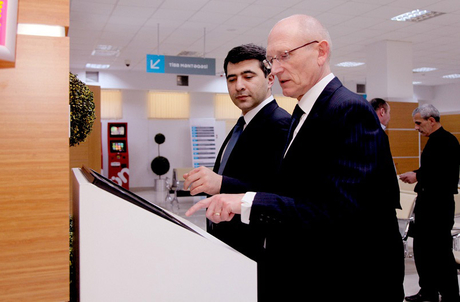 German Ambassador to Azerbaijan Herbert Quelle acquainted with the activities of the "ASAN Khidmet" Center No. 1 in Baku, subordinated to the State Agency for Services to Citizens and Social Innovation under the President of the Azerbaijan Republic.
Chairman of the State Agency Inam Karimov spoke on the "ASAN Khidmet" Center No. 1 in Baku, its objectives, the types of services, as well as future plans. The chairman said that the purpose of the center is to provide facilities to citizens in providing legal services to state agencies, transparency, elimination of corruption, the use of modern technology, the principle of "common space", the formation of new thinking in the civil service-citizen relations on the principle that "the duty of public man is to ensure the rights of citizens."
Highlighting the successful cooperation between Azerbaijan and Germany, ambassador Quelle expressed confidence that the newly established agency will play an important role in the expansion of this cooperation.
The German diplomat highly assessed the conditions and professionalism at the "ASAN Khidmet" Center.