Azerbaijan's Bayramov, US' Karen Donfried yet again mull Baku's demands on Lachin corridor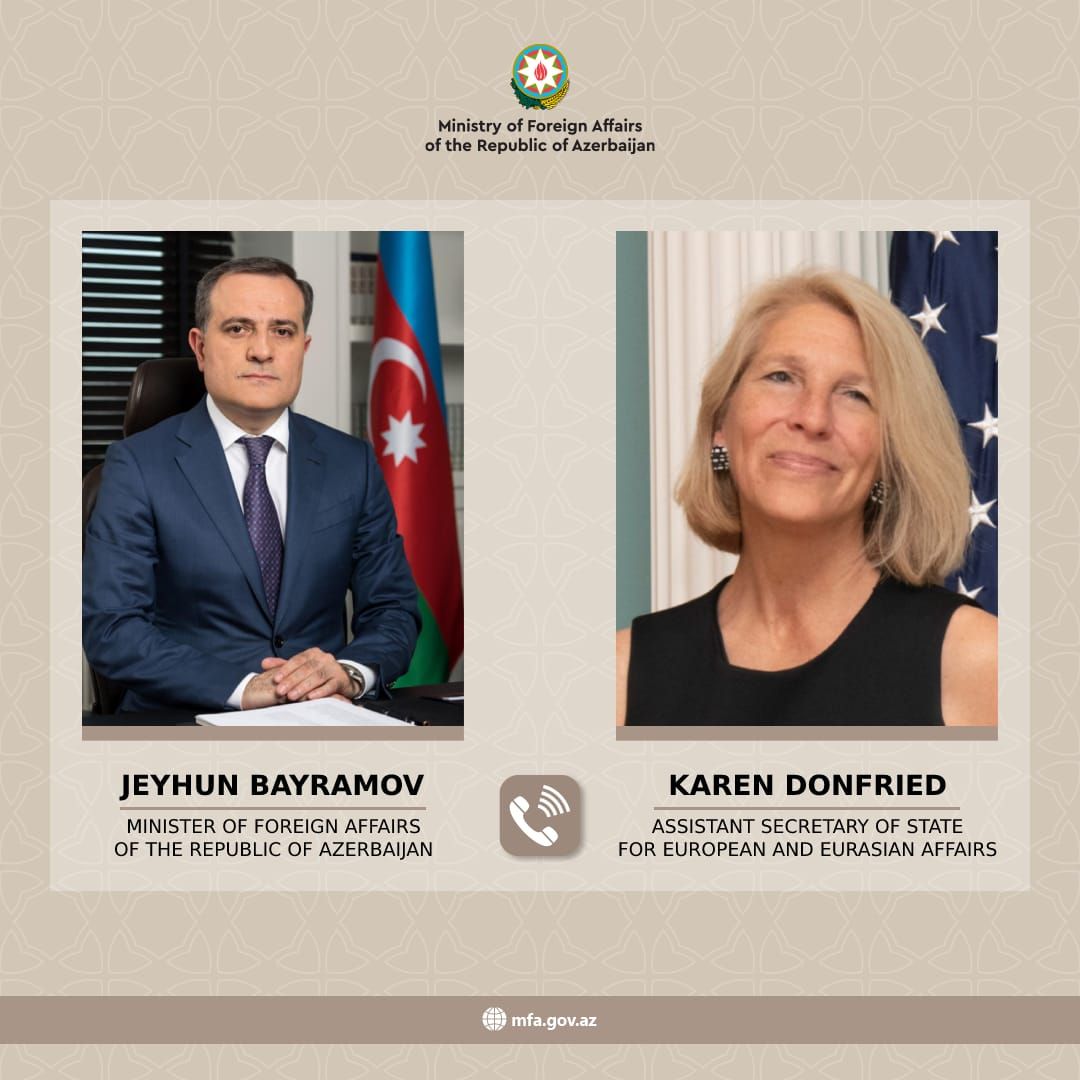 Azerbaijani Foreign Minister Jeyhun Bayramov and US Assistant Secretary of State for European and Eurasian Affairs Karen Donfried have had another phone conversation although Baku's press release did not elaborate on who initiated the call this time in view of another one a short while ago, Azernews reports.
In a comment on the open-ended protest of Azerbaijani eco-activists on the Lachin road, the Azerbaijani foreign minister said that the legitimate demands of the protesters had not been satisfied yet.
"The legitimate demands of the protestors on the Lachin road are yet to be met," Jeyhun Bayramov told Karen Donfried.
The protest of the eco-activists in Karabakh has been going on since 12 December and was triggered following the failure of the Russian peacekeeping contingent to ensure the free and unhindered access of the Azerbaijani experts from various government agencies to visit sites of natural deposits in Karabakh illegally exploited by the ethnic Armenian separatists in Karabakh.
After the Russian peacekeepers' failure to provide the necessary conditions for the Azerbaijani representatives to carry out their duties in the designated areas, a group of eco-activists, NGOs, and public representatives have taken to the street in protest at the peacekeepers' repugnance to live up to their obligations in line with the November 10, 2020, peace deal to maintain peace and order in the region, and oust the Armenian troops from the region and prevent illegalities. However, time proved that the Russian peacekeepers are driven by the interests of Russia rather than the idea coming from the essence of the notion of peacekeeping as universally understood.
Coming back to the telephone conversation between Jeyhun Bayramov and Karen Donfried, what the press release said was that "the parties discussed the current situation in the region and the prospects for negotiations on a peace agreement between Azerbaijan and Armenia".
The Azerbaijani foreign minister flatly denied any "tense humanitarian" situation in the region, pointing at misuse of the sole road by the separatists as envisaged under the peace deal of November 10, 2020, that resulted in Armenia's defeat in the 44-day-long second Karabakh war.
"Jeyhun Bayramov said that following the tripartite statement, Azerbaijan only guarantees the safety of citizens, vehicles, and cargo on the Lachin road. Still, Armenia is misusing the Lachin road for illegal economic activities, for the rotations of Armenian servicemen, and for the transportation of mines. He emphasized that there is no basis for the claims that the region has a tense humanitarian situation in the region," the press release added.
---
Follow us on Twitter @AzerNewsAz