President Aliyev: Azerbaijan to take Armenia to international court for material, moral damages [UPDATE]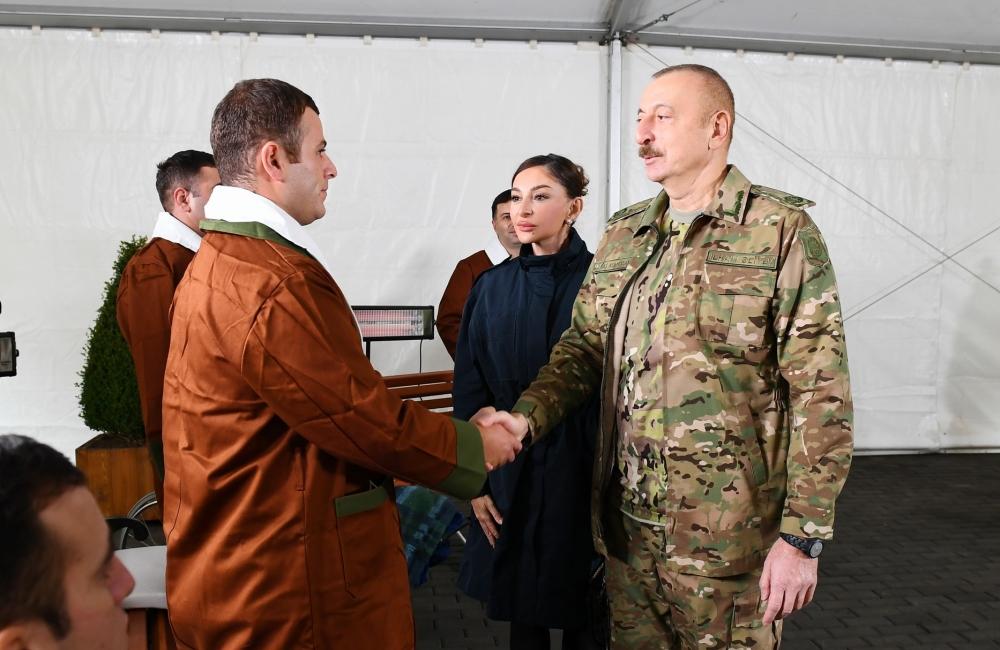 By Vafa Ismayilova
President Ilham Aliyev has said that Azerbaijan plans to sue Armenia internationally for material and moral damages it inflicted on Azerbaijan as a result of the occupation.
The president made the remarks on November 11 during his meeting with the wounded servicemen undergoing treatment at Baku's Clinical Medical Centre NO1. The meeting was also attended by First Vice-President Mehriban Aliyeva.
"The enemy has committed a war crime, and I have already issued instructions to calculate and record the damage. Groups have already been mobilized and international experts will be invited. With the participation of international experts, the entire material and moral damage will be calculated, and we will take the enemy, both individuals and collectively, to international courts, they will pay compensation and will be brought to account. They are already being held to account for their ugly deeds," the president said.
He added that almost 99 per cent of the liberated territories had been destroyed.
"Residential buildings, schools, hospitals, public buildings, historical sites, graves of our ancestors, mosques [have been destroyed]. Now we are spreading these images so that everyone can see them in the media. This is savagery and vandalism".
The president thanked Azerbaijani soldiers for their heroism to win the victory in the war.
"We have once again shown our strength and the unity of our people. We have shown that no force can stand in front of us, no force can turn us away from the right path. You carried out this historic mission – Azerbaijani soldiers, Azerbaijani sergeants, Azerbaijani officers," Aliyev said.
He also hailed the Azerbaijani army's strong technical capabilities.
"The whole world has seen what technical capabilities we are using. I can also say that our victories and military operations are being studied all over the world today both in terms of technical capabilities and in terms of operational steps, preparation and implementation of operations. This is a new generation of warfare, which combines planning, technical equipment, application of technology, proper planning and implementation of operations, combat capability and high morale of our servicemen," Aliyev said.
He added that the Second Karabakh War will go down in history as Azerbaijan's glorious victory.
"This victory will remain in the history of Azerbaijan forever. Both on the battlefield and at the negotiating table, we were able to achieve what we wanted... Both in the political sphere and in the field of military construction, we gained an advantage from the first days of the war thanks to the professionalism of our servicemen and consistently advanced towards this last goal," he said.
Aliyev described the joint peace agreement as an act of Armenia's peaceful capitulation.
"I have also instructed that the military equipment of the enemy we have taken as booty be brought to Baku. I asked for a place to be chosen where we will demonstrate this equipment. All people of Azerbaijan will go and see what we have brought back," he added.
The president also underlined Turkey's great role in gaining victory.
"Turkey's political and moral support played a huge role in achieving this victory. Because the words of the President [Recep Tayyip Erdogan], my brother from the first hours that 'Azerbaijan is not alone, Turkey is with it', stopped the attempts of many to intervene in this conflict. During all this time, the President, ministers and officials have always expressed their support for us. You see how many delegations are coming here. Several delegations come here from Turkey almost every week. The support and solidarity Turkey has shown are highly appreciated by the Azerbaijani people," he said.
The president said that the government will revive the liberated territories as soon as possible and return IDPs to their lands.
"We, the Azerbaijani state, will do our best to take you [IDPs] back as soon as possible. First of all, of course, security measures must be taken. The enemy has planted mines almost everywhere in those areas. Now the mine clearance process must begin. We will now involve international organizations. Because we have limited internal capacity to do this in a short time. First of all, security, then infrastructure, then all other restoration issues will be addressed," the president said.
Aliyev stressed that as a result of Armenian attacks between September 27 and November 9, 93 civilians were killed, more than 400 civilians were injured, over 3,000 buildings were either destroyed, burned or damaged.
"I have already instructed to send groups to the regions, so the damage is being calculated. All the destroyed houses will be rebuilt at the expense of the state," he said.
The president noted that Karabakh, an integral part of Azerbaijan and one of the most beautiful corners of Azerbaijan, will become a real paradise.
He assured citizens, who suffered damages, that all their lost properties will be restored in line with high standards.
"For us, the well-being and security of our people is the priority issue," he said.
The president said that special steps will be taken to provide Azerbaijan's heroic and wounded servicemen with jobs, families of martyrs will be provided with houses and the servicemen and civilians distinguished during the war will be awarded new orders and medals.
The president thanked parents of servicemen for raising heroic children for the state.
"I have come to express my personal gratitude and congratulations to you. The first people I congratulate are you and all our heroic warriors in your person. I have come to say that I will always be with you. You can count on me. Our heroic warriors will always be in my spotlight in the future. I congratulate you again, get well soon and return to normal life. Karabakh is ours! Karabakh is Azerbaijan!" Aliyev said.
The 44 days of war ended with the Russian-brokered peace deal signed on November 9 by the Azerbaijani, Russian and Armenian leaders. The peace agreement envisages the de-occupation of Azerbaijan's Kalbajar, Aghdam and Lachin regions by December 1 as well as the return of Azerbaijani IDPs to Azerbaijan's Nagorno-Karabakh and the seven adjacent regions under the control of the United Nations High Commissioner for Refugees. Before the deal was signed, Azerbaijan liberated over 300 settlements, villages, five city centres and the historic Shusha city.
--
Follow us on Twitter @AzerNewsAz